I'm way, way behind on my comic reviews, so I'm going to try to take care of the rest of mine as quickly as possible.
She-Hulk #19
The evil gamma-spawned super-genius called the Leader is finally brought to trial for his many crimes, and Jennifer Walters, who used to be the She-Hulk before she very recently lost her powers, has to watch as her own law firm elects to defend the big-brained scoundrel. Even worse, Jennifer is called to the stand to testify that getting gamma powers changes your personality. Also, there's new mystery about Pug and his new hairstyle, and we finally learn what Mr. Zix did to the hapless Stu Cicero when he learned the robot lawyer's true identity.
Verdict: Thumbs up. Jenn is, frankly, hilarious when she's getting harmlessly humiliated. (And She-Hulk really did sleep around a lot. 'Bout time someone asked whassup with that.) The Leader is fairly funny, too, and Mallory Book is turning into a great non-powered archnemesis for Jennifer.
Hellboy: Darkness Calls #3
Not as good as some Hellboy comics, but still a great example of how to do horror in a comic book. Lots of great stuff with the Baba Yaga, Koschei the Deathless, and other figures from Russian mythology. Koschei is especially cool. Oh, and we get some good moments with Hellboy sitting around smoking with a low-level house spirit.
Verdict: Thumb up. Whether as artist or writer, Mike Mignola is the best horror creator in comics.
Tales from the Crypt #1
Not the original horror comic from the '50s, but a revival from a publisher called Papercutz. And yes, that is an awesome cover by Kyle Baker. How I wish the inside of this new series was as good. The artwork is crude and too bright for a horror comic. The writing is sub-standard. They get the form of the classic EC Comics right, but they work so hard on modernizing them that they completely forget to add any of that wonderful creepy horror you got from the old "Tales from the Crypt" comics.
Verdict: Thumbs down. I wasn't scared. I wasn't thrilled. I was bored.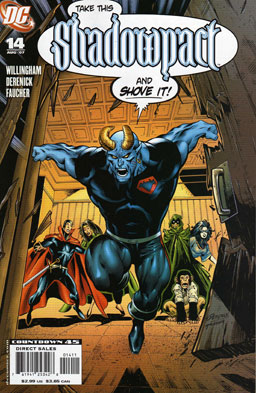 Shadowpact #14
Zauriel, angel and former Justice Leaguer, attacks Blue Devil, reluctant demon and member of the Shadowpact, because his superheroic exploits have convinced too many people to sell their souls for demonic powers because they think he's cool — and Blue Devil agrees with him! But he'd rather avoid getting killed by Zauriel, so he quits Shadowpact and starts a public relations campaign to reveal his sins, crimes, and shortcomings to get people to stop emulating him. With Blue Devil gone, the rest of the Shadowpact draft Zauriel as a member, and the evil Dr. Gotham starts some rotten plots into motion.
Verdict: Thumbs up. Though I can't see a lot of people really looking up to Blue Devil (Shadowpact isn't anywhere near the big dogs of the DCU like the Justice League or the Justice Society), I like the idea of B.D. trying to atone more for his past actions. And I love the bit with the lawyer offering to defend Blue before an infernal court of law.
Stars and S.T.R.I.P.E.
This is the first volume of a trade paperback collecting the early issues of the 1999 series "Stars and S.T.R.I.P.E." about Courtney Whitmore, the new Star-Spangled Kid (now Stargirl in the Justice Society), and her stepfather, Pat Dugan, who used to be a sidekick called Stripesy and now pilots an oversized robot called S.T.R.I.P.E. The characters have an adversarial relationship — Courtney hates her stepdad and spends as much time antagonizing him as she does fighting crime.
Verdict: Thumbs up. This was writer Geoff Johns' first comics work, so there are a few growing pains, but the whole thing makes for a very fun comic. Courtney is a wonderful character, a fun, funny, upbeat teenage rebel. Johns based the character on his younger sister, Courtney, who died in the explosion of TWA 800, and I think that helped give the character a vitality and realism that lots of other comic book characters lack.