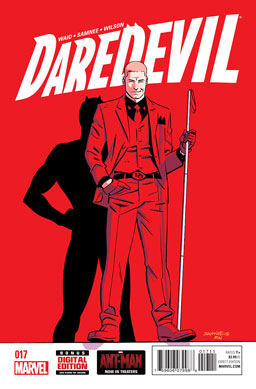 Daredevil #17
The Kingpin has double-crossed Matt Murdock pretty hard. He's had Ikari, the assassin with all of Daredevil's fighting skills and enhanced senses — plus the ability to see — to kidnap Foggy Nelson and Kirsten McDuffie. He wants Matt to fight Ikari — and if Matt wins, he's going to kill either Foggy or Kirsten. Can Matt devise a plan to save both his friends? And can that plan survive when the always-meddling Shroud decides he wants to help?
Verdict: Thumbs up. Great art, great story and cliffhanger. Great to see Ikari and the Kingpin here up to their old rotten tricks.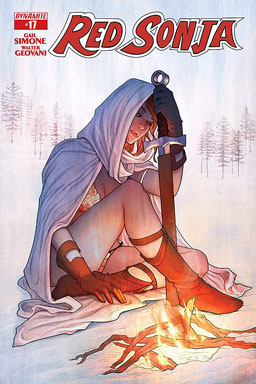 Red Sonja #17
Sonja is hired by a group of nuns to protect their citadel, a gigantic library that the local empress wants destroyed, mostly for the sake of evil. But there's a problem — Sonja never learned to read, doesn't value books, and is unwilling to risk her neck just for a bunch of paper. But she later has a change of heart and returns in time to run off the soldiers of the empire — but not before they inflict a possibly fatal wound on the nuns' leader and attracts the wrath of the corrupt empress herself.
Verdict: Thumbs up. I'd been worried that Gail Simone was off this comic, but yay, she's still writing it! Characterization and humor are still strong points of this series, along with the ridiculous depravity of the villains.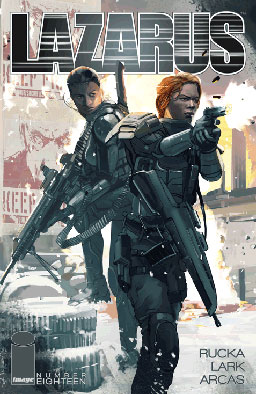 Lazarus #18
Forever Carlyle, the genetically engineered Lazarus of the Family Carlyle, is leading a small strikeforce into the disputed territory between the Families Carlyle and Hock in Duluth. Meanwhile, plenty of inter-family politicking and squabbling is going on back home as the siblings try to get their father healed — or decide who will lead the family next. And the campaign in Duluth is going fairly well — except for one fairly severe security slip-up…
Verdict: Thumbs up. Quite a cliffhanger at the end there!
Today's Cool Links:
Comments off