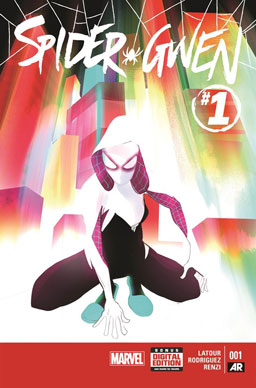 Spider-Gwen #1
Gwen Stacy — the Spider-Woman of an alternate universe where she got bit by the radioactive spider and Peter Parker died after turning himself into the Lizard — is back on her home Earth after the events of the Spider-Verse crossover. The Vulture has made his first appearance and attacked beat cop Ben Grimm. Captain Stacy has been relieved of his position on the Special Crimes Task Force, which has been taken over by Captain Frank Castle. The Mary Janes have a popular song, but they're not going anywhere when Gwen, their drummer, isn't in the band. Can Gwen get her life back on track? Can she lure the Vulture out of hiding and take him down to improve her image with the public and the cops?
Verdict: Thumbs up. I've really been looking forward to this comic. Everyone's very excited about this version of Gwen Stacy, and it's interesting to see how her supporting cast is starting to be filled out. My lone quibble: Man, that title is a stinker. What's wrong with "Gwen Stacy: Spider-Woman"?
Gotham Academy #5
Olive learns that Killer Croc is hiding in the north wing of the school — and he's actually watching out for her, as a favor to her mother, who was a patient in Arkham. She and Maps lose track of Croc, but enlist the aid of several other schoolmates to look for him. Olive also learns the secret of mysterious Tristan — he has the Langstrom Virus, so he sometimes grows bat wings and flies around the campus at night. Eventually, everyone gets together, finds Croc, brings him some food — and then there's another unwelcome guest with his own set of bat wings.
Verdict: Thumbs up. This issue is nearly 90% crazy and 110% gorgeous. I love the fact that this whole things seems to be set in the animated Batman TV series and not in any comic books — Croc looks just like he did on TV, he uses all his best lines, some of the teachers seem to be from the TV show, and the whole thing is wonderfully free of excess angst, even for a teen romance comic.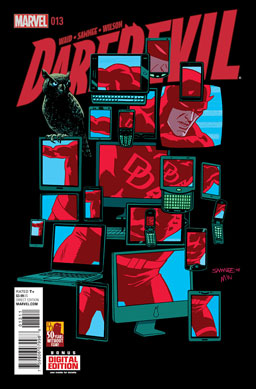 Daredevil #13
Things seem to be going well for Matt Murdock and Kirsten McDuffie — but Matt is second-guessing his relationship because he knows how most of his girlfriends end up. Foggy Nelson angrily tells Matt to stop pretending everyone else in the world is just a supporting character in his life (even though — shhh! — they actually are supporting characters. OMG, Inception!) and learn to trust that Kirsten is able to take care of herself. And then Kirsten does get kidnapped. But who is her mysterious abductor? Who helps Daredevil capture him? And who's the secret mastermind behind it all?
Verdict: Thumbs up. Beautiful comic, as always, and a nice little boost to Kirsten McDuffie's badass factor — namely that she has her own rogues gallery.
Comments off