Remember the toddler I wrote about last month who had the genetic condition that allows him to really pile on the muscle?
Well, it turns out other animals can get that condition, too, including dogs. For example, there's this one particular whippet named Wendy.
You see, this is what a normal whippet looks like.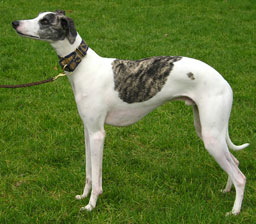 And this is what Wendy looks like.
Hully chee, it's the Hulk!
While you're struggling to pick your jaw up off the floor, check out this article about Wendy.
The uber-muscled whippets are called "bullies," not because of their nature — Wendy likes nothing better than a good back scratch and isn't shy about sitting in your lap to ask for one — but because of their size. She's about twice the weight of an average whippet, but with the same height and small narrow head — and the same size heart and lungs, which means she probably won't live as long as normal whippets.

Hansen has had Wendy, now four, since she bought the dog from a Shawnigan Lake breeder when she was eight months old.
No word yet on whether Wendy can fly or has heat vision…