Time to get the reviews for the rest of my comics out of the way today.
The Brave and the Bold #5
Well, last issue ended with Batman merged with the evil cyborg Tharok and transported to the distant future. This issue starts out with the 31st century's Legion of Super-Heroes using their amazing super-science to split the two characters apart. Unfortunately, despite the many technological advances of the future, they've never managed time travel (or at least this version of the future hasn't — lots of previous versions of the Legion had time travel), so Batman may be permanently stuck in the future. Even worse, his presence is causing the manifestation of dangerous time rifts that could wreck the entire fabric of time. Everyone figures that, since the Haruspex super-weapon managed to send Batman forward in time, maybe it could also send him back. Unfortunately, no one can get it to work anymore.
Frustrated by his situation and by the arrogant Brainiac 5's constant put-downs of his relatively primitive intellect, Batman seemingly goes nuts, steals a Legion Flight Ring, and leads the Legionnaires on a wild chase. In the process, he ties Triplicate Girl into a Siamese Human Knot (just like in the old '60s "Batman" show!) and has a grand mid-air martial arts battle with Karate Kid.
Back in the present-day, Supergirl, Green Lantern, and Adam Strange are on the distant planet Rann trying to locate the Book of Destiny before the evil Luck Lords get their hands on it.
Verdict: Thumbs up. So many cool things, all in one book. Action, humor, wonderful dialogue, great plot twists, and George Perez's outstanding art — all of it in one little comic book. Go git it.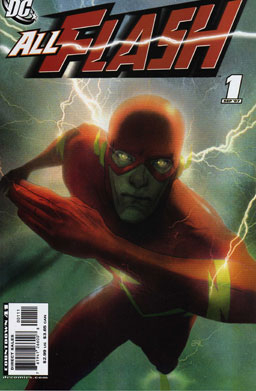 All-Flash #1
This is a one-shot issue to link the old "Flash" series with the new one. In it, the resurrected Wally West goes after Bart Allen's killer (and clone!) Inertia. He picks an ironic end for him that is indeed uncommonly cruel for what we know about Wally (just as Bart's death was uncommonly cruel for what we knew of the previously non-murderous Rogues), but it is something that Inertia will be able to escape from pretty easily so he can come back over and over as a villain.
This issue has several different artists, but at the end we get a glimpse of Daniel Acuna's art for the new "Flash" series — and I'm not really very encouraged by it. You see, Acuna is a painter — an excellent one, in fact — and his artwork, like the recent "Uncle Sam and the Freedom Fighters," is dark, dark, dark — lots of very dark colors, accentuated by brilliant flashes of light. It's beautiful, but it makes his artwork hard to look at — you can't see it clearly in anything less than direct light — anything less is like looking at dim silhouettes. And his best work is fairly grounded in the realism of the human form — but here, he goes for some grotesque cartooning — Flash's son is a kid, and elsewhere in this issue, he's depicted as a normal-looking kid. But in Acuna's artwork, he has powers, and his arms and upper body are muscled like a professional bodybuilder. He looks utterly freakish — he'd look freakish drawn by anyone, but Acuna's realistic style makes it more pronounced and ugly. Acuna's artwork for "The Flash" makes me a lot less enthusiastic about the upcoming series — I'm a big believer in the idea that the writer doe the most work toward creating a good comic book, but there's no doubt that poor — or in this case, just bizarre — artwork can kill a lot of the pleasure of reading a well-written comic.
Verdict: Thumbs up, but just barely. There are large chunks of this story that I like a lot, but the Acuna artwork just makes me so nervous…
Stephen Colbert's Tek Jansen #1
Yes, this is the same Stephen Colbert who anchors Comedy Central's "Colbert Report." The comic isn't written by Colbert, but he is credited with "Galactic Overlording."
Tek Jansen is a Colbert-created space hero who looks just like Colbert and talks just like his comedy persona — egotistical, conservative, casually xenophobic, but very, very, very heroic and always right about everything. He gets sent on intergalactic missions, engages in wild derring-do, takes the law into his own hands, and makes fun of both the radioactive robot monkey he works with and Overseeress Braina, a floating disembodied brain wearing a pretty bow.
He sleeps with a gross skeleton alien, brutally assaults numerous monstrous alien menaces (and innocent alien passersby), fights evil in the nude, and destroys planets for no good reason. There are lots of funny sciencefictionisms, as well as wonderful dialogue, especially from the evil Meangarr, a caged inkblot who constantly issues over-the-top threats like "I'll tear your head off and make it my wife." (Note: Please try to use this phrase in conversation today.)
Verdict: Thumbs up. Clearly, we need more comics inspired by Stephen Colbert monologues.