It's the last round of Friday Night Fights for a couple of weeks, because when Bahlactus spends so much time bringin' the hurt, he needs a little time off to rest. But there will be no rest tonight! Let the pain commence!
From "The Atom #17" by Gardner Fox and Gil Kane:
Professor Ray Palmer provides a quick lesson in X-treme Horsemanship:
First, you gain control of the horse.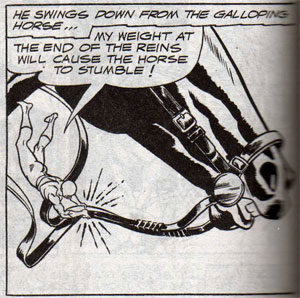 Second, you, well, swing on the reins. (Funny shadow on the right edge courtesy of the difficulty of scanning too close to the spines of DC's Showcase editions.)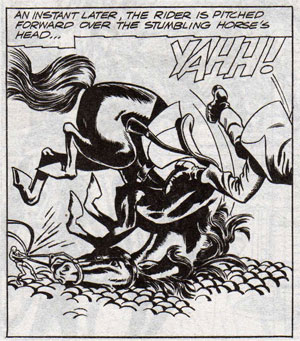 Third, you judo-throw the horse!
Let me repeat:
You JUDO-THROW THE HORSE!
I think the Atom's going home with the Championship Belt in Rodeo Brutality!