More fast reviews! 'Cause I'm a busy man! I got work to do! Meetings to attend! Candy to eat! So onward! REVIEWS!
Blue Beetle #19
The extremely tall Giganta, one of Wonder Woman's enemies, shows up to take down local crimelord La Dama, who's secretly the beloved aunt of Jaime Reyes' friend Brenda. Whoa, complication! Can Jaime save La Dama and still preserve the secret she's been keeping from Brenda? Umm, no, he really can't.
Verdict: Thumbs up! Good action, good jokes, decent soap opera. Paco gets the best lines, as usual. Have I told y'all to start buying this? You've been ignoring me, haven't you? Don't make me beat you!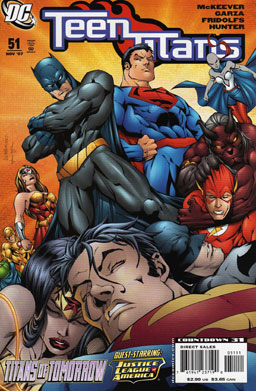 Teen Titans #51
Oh, spit! It's the evil Titans from the future! But I thought they stopped existing? I thought Conner Kent and Bart Allen were dead? Oh, well, they've stomped on the Justice League and have now sent the current Titans off against a bunch of supervillains who are being mind-controlled by Starro the Star Conqueror. Of course, the future Titans have some twisted reasons for being there, but Robin has a plan to stop them — a pretty drastic plan…
Verdict: Thumbs up. The future Titans are good, wicked fun. Hope they can maintain the fun over the next issue or two.
Countdown to Mystery #1
I'd planned to skip nearly all these Countdown tie-ins, but decided to give this one a shot because I heard it had Plastic Man in it, and Plastic Man's my homie. So in the first part, we meet the new Dr. Fate, who, like the first Dr. Fate, is named Kent Nelson. Oooo, coincidences! He's a down-on-his-luck bum who stumbles across Fate's helmet in a dumpster in Vegas and then uses its power to destroy a demon. Yay for smelly homeless Dr. Fate!
In the second part, the Spectre kills a murderer, who steadfastly refuses to go to Hell, because he's an atheist. Haw! Eat that, Mr. Wrath-of-God! Then we run into my pal Plas, who captures some muggers in Central Park, then gets accosted by Eclipso, who apparently turns him from wacky jokester to angst-ridden villain-to-be. And then there's a flashback with Darkseid. But ya know, I wasn't listening by that point. Because no one treats my pal Plastic Man that way. NO ONE TREATS MY PAL PLASTIC MAN THAT WAY.
Verdict: Thumbs down. The story with Dr. Fate was pretty good. But you do not treat my pal Plastic Man that way.
And now, just to burn a little more space, here's another image you will never be able to un-see.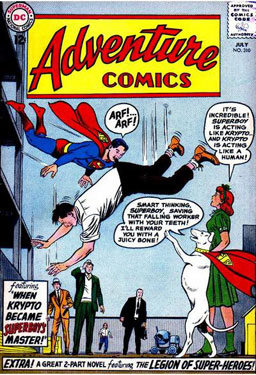 That's right, Superboy saves people by biting them on the butt. Comics are wholesome!