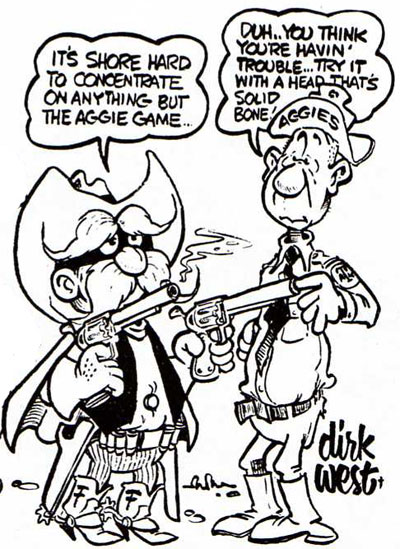 I'm going to step away from comic book matters for a bit — not too far away, since I've got some great Dirk West sports cartoons I can share with you, too. But let's take a quick dip into sports-related matters. And by "quick," I mean "from now 'til Saturday."
Ahh, the Texas Tech-Aggie game. Is there a better time for us to reflect upon our esteemed cross-state rivals, upon the glories of enthusiastic fansmanship, upon the unbridled sense of glee one feels when listening to A&M complain about getting mistreated by everyone?
For the past several years, the Aggies have become loud advocates of good sportsmanship — in particular, they've decried Tech fans and their boorish tendencies to cheer loudly, ride a horse on the sidelines, tell jokes about the Aggies' comedic stupidity, and drop end zone uprights from dizzying heights upon their fans. They will tell you of all the times they've visited Jones Stadium only to be greeted by diabolical ogres flipping the team bus over, by eldritch necromancers summoning armies of the undead to feast upon the souls of anyone wearing maroon, by little girls asking them if they have Prince Albert in a can, then laughing uproariously when they respond with their traditional "Duhhh…"
I sympathize. I really do. But whining about other teams' sportsmanship doesn't win you quite as many brownie points when you've got your own long history of really awful football misbehavior.
For instance: Texas Tech quarterback Rodney Allison. That won't mean much to newcomers to Lubbock, but all the old-timers know who I'm talking about. Allison was an absolute phenom in '77 — he was a favorite to win the Heisman, and thanks to him, Tech was picked as the #4 team in the nation, likely to win the SWC and a probable contender for the national title.
Now back in the '70s, the Aggies didn't really care that much about sportsmanship. They were much more into being the Southwest Conference's dreaded thug squad. It was whispered that the alumni put bounties on certain players — if an Aggie player managed to take them out of the game, they'd get a nice, fat, under-the-table cash reward. True? Untrue? Heck if I know. People believed all kinds of crazy stuff in the '70s — polyester as a fashion choice? Pet rocks? The Hustle?
Still, the Aggies wracked up a long string of prominent injuries of rival players over the space of a few years. And when it got to be time for the Tech game… well, the Red Raiders were 6-0 and strongly favored over the Aggies. Who'd be the obvious target if there was a bounty on a Tech player? Guess who got his leg broke early in the first quarter? And how did the Aggie fans react? It was a bit less on the "respectful concern for a fallen player" and more on the "delighted, taunting glee."
As Dirk West's Boo Bird said at the time: "I don't think the Aggies tried to hurt Rodney… But then I also believe in the Easter bunny."
Now I'm entirely in favor of good sportsmanship. I think teams and fans should respect each other, play and enjoy a good game, and go home with positive memories of their opponents, win or lose. But I don't feel that bad about questioning a team's commitment to sportsmanship when their past behavior demonstrates the opposite.
Hey, that was unexpectedly serious! None of that! Let's have another cartoon!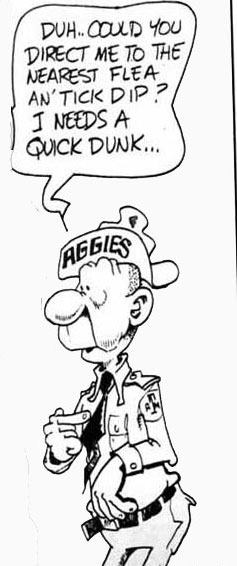 Yay! Cartoons are fun!
(By the way, if you enjoy these old Dirk West cartoons, you can see them in their full glory in the "SWC Cartoon Book," which was put together by Dirk himself. We've got 'em for sale here at the A-J — fifteen bucks'll get you a thick book with at least a couple hundred of Dirk's cartoons.)