Let's check in with this week's Sinestro Corps War crossover comics…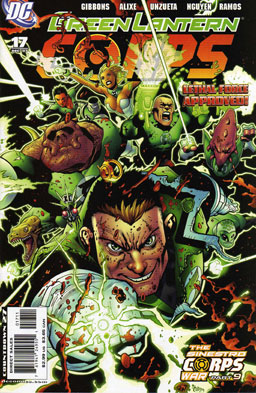 Green Lantern Corps #17
This is the comic that I mentioned a few days ago that features a scene where some Green Lanterns are dispatched to Lubbock. Do we get to see our fair Hub City? Kinda. We get a half-page of two Green Lanterns wiping out some Sinestro Corps members. We also see some pumpjacks. Apparently, the Sinestro Corps came to Lubbock to set a bunch of oil wells on fire. Not that we have all that many oil wells, but maybe they decided that saying the Sinestros came to Lubbock to burn up the cotton fields just wouldn't sound very dangerous.
Aaaaanyway, the Lanterns spend most of this issue carving up the Sinestro Corps. Kilowog stomps the tar outta the evil Arkillo. And at the end, the Anti-Monitor himself shows up and almost kills Sodam Yat, a rookie Daxamite Green Lantern. But the Guardians of the Galaxy make an appearance and fuse Yat with Ion, the green-energy symbiote that used to live inside Kyle Rayner. But can this new Daxamite Ion hold up against the evil Superman-Prime?
Verdict: Thumbs up. Sure, most of the plot devolves down to shooting cannon-fodder Sinestros. Sure, some of the art is less than ideal, and the layouts could use some work. Sure, the ending was telegraphed from the first page. But it's still fairly entertaining, and it's nice to know that an intergalactic police force feels that Lubbock's plentiful oil wells are worth saving.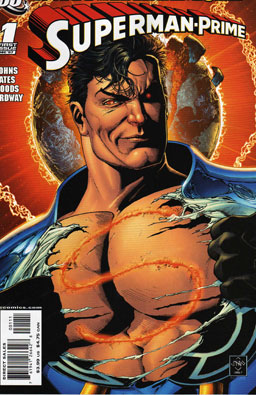 Tales of the Sinestro Corps: Superman-Prime
And speaking of Superman-Prime, here's his story. Basically, he's a comic-book geek from an alternate universe who actually ended up being his universe's version of Kal-El — a Kryptonian survivor who gained superpowers as a teenager. During the Crisis on Infinite Earths back in 1985, his universe got wiped out, and he ended up staying in a sub-dimensional quasi-paradise with the elderly Superman and Lois Lane from Earth-2 and Alexander Luthor from Earth-3. Superboy-Prime and Alex Luthor went bad during the Infinite Crisis a couple years ago, and killed a bunch of people. Luthor got killed by the Joker, and Superboy-Prime was imprisoned inside a red sun by the Green Lanterns. The Sinestro Corps broke him out, and he's working with them until he can figure out how to kill off all Earth's superheroes and get the Anti-Monitor out of the picture.
As far as plot goes, there's not a lot of it. Most of the planet's superheroes show up to try to stomp the renamed Superman-Prime. He's wearing special armor that gives him powers, so everyone's trying to get rid of his armor before the sun rises and he gets real powers from the yellow sun that gives all Kryptonians their powers. (Of course, he's been sitting on the moon for long enough to get some solar exposure — but that wouldn't be properly dramatic, would it?) And of course, he's able to last 'til the sun rises, so he can try to beat up the new Ion.
Far better than the main plot is a short and very creepy backup story about a Sinestro Corps member called Kryb. A crone-like alien, she kills Green Lanterns, kidnaps their infant children, and stores them inside a hellish biological crib in her own back.
Verdict: More or less, thumbs down. The main story is fairly pointless, meandering, and brutal (Did we really need to see former Teen Titan Risk get his other arm ripped off?) and could've been replaced admirably with, well, a story that didn't involve tons of super-people beating each other up. But that backup story about Kryb? Holy moley, that was seriously disturbing. I don't know that it's worth the cover price all by itself, but it's a really, really good story, especially this close to Halloween…