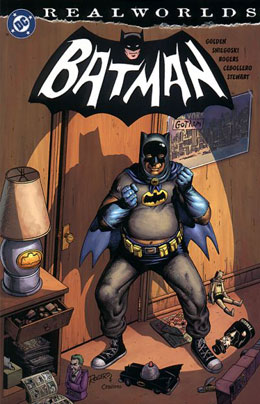 I don't know if this is cool or just really, really weird, but here ya go: People who dress up as superheroes and go out to fight crime and/or improve their communities.
By most observers' reckoning, between 150 and 200 real-life superheroes, or "Reals" as some call themselves, operate in the United States, with another 50 or so donning the cowl internationally. These crusaders range in age from 15 to 50 and patrol cities from Indianapolis to Cambridgeshire, England. They create heroic identities with names like Black Arrow, Green Scorpion, and Mr. Silent, and wear bright Superman spandex or black ninja suits. Almost all share two traits in common: a love of comic books and a desire to improve their communities.

It's rare to find more than a few superheroes operating in the same area, so as with all hobbies, a community has sprung up online. In February, a burly, black-and-green-clad New Jersey-based Real named Tothian started Heroes Network, a website he says functions "like the UN for the real-life superhero community."

…

Once you've honed your body and strapped on your utility belt, it's time to decide how to focus your heroic efforts. Within the community of Reals, there's a buffet of choices. Some choose mundane tasks — The Cleanser strolls around picking up trash, while Direction Man helps lost tourists find where they're going. Most Reals also lend their personages to charities, donating to food banks or organizing clothing drives.

Other Reals scoff at the idea of being a glorified Salvation Army bell-ringer and instead go looking for action. "I fight evil," says Tothian, the New Jersey crimefighter who founded Heroes Network. "I don't think picking up garbage is superheroic."

Master Legend, a chrome-suited 41-year-old from Winter Park, Florida, patrols the streets looking for crimes in progress, and claims his efforts have paid off. "I've dumped garbage cans over crackheads' heads, I slam their heads against the wall, whatever it takes," the Silver Slugger says with bravado. "They try to hit me first, and then it's time for Steel Toe City."
I dunno — the concept of "real" superheroes, of people dressing up in costume to pretend to be superheroes, has always just struck me as severely silly. I'm a big fan of having an active fantasy life — but dressing up and playing out my fake fantasies for all the world to see? That's a bit much.