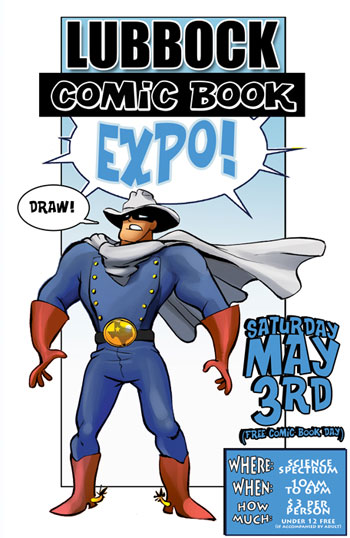 You ready for the Comic Book Expo? I said ARE YOU READY FOR THE LUBBOCK COMIC BOOK EXPO?!
Well, get ready. It starts tomorrow, and you don't wanna miss out.
First, some quick links: the Expo's official website, and the article from the A-J's GO! entertainment section. Read and learn, kids.
Ooh, and a schedule! Youse mugs need a schedule. Here's what I got — last time I checked, it was up-to-date and accurate.
Noon to 1 p.m.: Texas Tech's 3D Lab has three 20-minute presentations to showcase the latest in 3D animation technology and resources.

1-1:30 p.m.: Rob Weiner — the guy responsible for putting together the awesome collection of graphic novels at Lubbock's Mahon Library — has a special presentation on "Why Comics Are Cool."

1:30-2 p.m.: A presentation on "Lubbock's Comic Connections" — famous, or at least semi-famous, artists from West Texas. Who's the presenter? Dude, it's ME. Hecklers will be dealt with harshly — I'm bringing my All-Purpose Metal Beat-Down Stick.

2-2:30 p.m.: A presentation on how the comics rating system works. It's called "Seduction of the Innocent" — No, it's not kinky! Getcher minds outta the gutter, ya pervs. Anyway, I dunno who the presenter is.

2:30-3 p.m.: A Q&A session by Will Terrell, Big Bad Founder of the Lubbock Sketch Club, and Robert Mora, High Lord Mucketymuck at Star Comics, on the future of comics in Lubbock, and their vision for the comics-reading/drawing community.

3-4 p.m.: The Costume Contest! Dressing up in costumes will occur!!!

4-5 p.m.: Iron Artist! Will Terrell, Brian Morante, Beau Hufford, and Bill Williams will engage in a mighty battle of drawing stuff! First place gets a Cadillac Eldorado. Second prize is a set of steak knives. Third prize is BEAR ATTACK!

5-6 p.m.: Metropolis Radio LIVE! No kidding! You will cower before the awesome power of PURE RADIO.

7-10 p.m.: After-show Sketch Night at Freebirds World Burrito, 4930 S. Loop 289. Drawings will be drawn, burritos will be snarfed.
We're ready to rock this Expo good and loud. Y'all come on down and say howdy, tomorrow, 10 a.m., at the Science Spectrum!