It's Friday night already? And we all feel the need to fightin'? Well, that must mean it's time for Friday Night Fights!
This week, we turn to Marvel Adventures: The Avengers #24, by Jeff Parker, Ig Guara, and Jay Leisten, where the dastardly Hate-Monger shows Wolverine that insulting words really can hurt.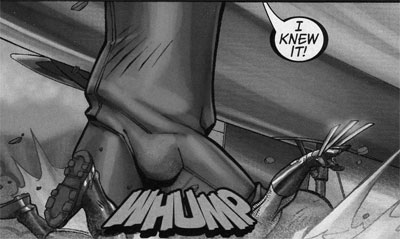 Let that be a lesson for all of you: avoid people who can grow to a hundred feet tall and stomp you into the dirt.