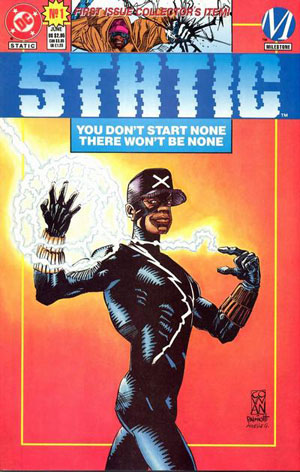 There is never a cool time to describe yourself as "giddy," but folks, after I read this news earlier today, I was absolutely, unapologetically giddy. We're talking dancing around, making high-pitched giggling noises, and trying to hug strangers.
The Milestone Universe is getting incorporated into the DC Universe.
Announced Saturday at Comic-Con International, the characters of Milestone Comics will be folded into the fabric of DCU proper, in some very high-profile titles.

Static – co-created by Dwayne McDuffie, the fan favorite writer of DC's top-selling "Justice League of America" – will be joining "Teen Titans" as an active team member.

The supercharged hero is arguably the former DC imprint's most recognizable character thanks in large part to the animated series, "Static Shock," that ran for four seasons from 2000 to 2004.

Late Saturday night, McDuffie, one of Milestone's co-founders, also confirmed for CBR News that two of his most popular creations will appear in his next arc of "Justice League of America," beginning in #27.

"You will definitely see Icon and you'll definitely see Hardware," revealed McDuffie. "And the Justice League will be going up against Milestone's Shadow Cabinet too."
Milestone was a comics imprint that was published through DC, but it had no connections to the regular DCU. It was probably the most successful comics publisher to specialize in fully multicultural comics, and most important to me, on a personal level, Milestone's comics (specifically, "Blood Syndicate") were the ones that finally got me back on the comics bandwagon again, back when I was in grad school in Denton.
Getting Milestone characters incorporated into DC's continuity isn't the same as getting Milestone's seriously awesome comics published again, but it's nice to see this, as Milestone's contributions were being forgotten too rapidly.
And as long as DC figures out a way to bring back the badass OG's from "Blood Syndicate," in all their "Are They Heroes or Are They Gangstas" glory, I'll be really happy. Giddy, even.