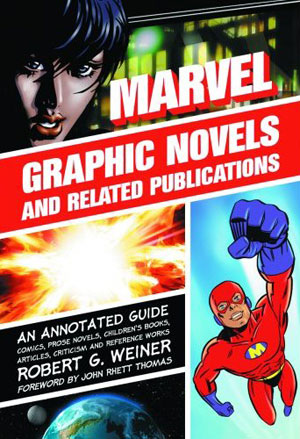 Ya know what's cool about working at a newspaper? You get all these press releases in the mail, and every once in a while, one of them ends up being useful for your comic book blog! For instance, there's this one that came late last week from the folks at Texas Tech University…
To all those would-be comic book historians whose mothers tossed out their research materials while cleaning out the attic: here's the resource for you.

"Marvel Graphic Novels and Related Publications: An Annotated Guide," written by Texas Tech University pop cultural guru Rob Weiner, is an exhaustive 385-page reference work on the universe of Spidey, Iron Man and The Fantastic Four.

Written to appeal to casual fans, committed collectors and scholars of sequential art – a lofty term for comic books – the guide provides detailed descriptions for all of Marvel's mainstream comics. Bibliographic citations provide information on writers and artists, ISBN numbers and plot synopsis for each publication title.

Weiner, a Texas Tech author, librarian and instructor with expertise on topics ranging from the Grateful Dead to American presidents in film, noted that a growing number of universities are offering courses that examine the social and psychological impact of sequential art.

"Superman, Batman and Spiderman represent a 20th century type of folklore, much like their predecessors: Odysseus, Hercules and Perseus," he said.

Weiner spent six years compiling the book – a task that required him to read all the works himself. The guide includes anecdotes and listings of scholarly publications on the subject.

Weiner serves as a subject librarian for the Texas Tech Library who specializes in art, sequential art, music and film. He is currently co-editing a book about transgressive exploitation and art cinema and plans the release of another book covering a Marvel staple: Captain America.

"Marvel Graphic Novels and Related Publications: An Annotated Guide," published by McFarland, may be purchased through Amazon.com.
By the way, Rob is one of the most dedicated promoters of comics in the Lubbock area — he worked for about a dozen years as a reference librarian at Lubbock's Mahon Library and helped build the library's comics/graphic novels collection from only a few books to over 4,000. That's gotta be one of the largest municipally-held comics collections in the country, if not the world.