Bahlactus has been running Friday Night Fights almost every week since March 2007, and he's decreed that tonight's gonna be the last one.
That's some 19 months of face-rockin', chin-checkin', pain-bringin', and head-bustin'. Over 70 weeks of kicks to the face, fists to the face, baseball bats to the face, and car batteries to the face. Bahlactus freestyles all the participants every week, and a while back, he was actually giving away comics to the folks who signed up. I enjoy the heck out of Friday Night Fights, and I hate to see it end, but Bahlactus is the man, and if he wants to call the series quits, I ain't tough enough to stop him.
So we got multiple themes running tonight — we need some righteous violence first, our theme is still "Ladies Night," so a woman's gotta be involved in the righteous violence, and it's Halloween, so we need to add some monsters into the equation. Let's spin the Wheel of Hurtin' and see what comes up.
From 1998's Vampirella #3 — a comic with some serious pedigree, as it was written by none other than Grant Morrison and Mark Millar, with art provided by Amanda Conner and Jimmy Palmiotti. Let's set our scene — Vampirella is looking to dust a bunch of vampires. Our favorite scantily-clad pseudo-vampiric vampire hunter has a bomb to take care of most of them, but for the leader, sometimes the old ways are best:
In other words, Vampi's gonna drive a wooden stake through a vampire's face.
Nice. A very happy, gory, vampire-free Halloween to us all.
But dangit, I can't let the last Friday Night Fights go with just one fight. Lemme dredge up the fight I was originally going to use, if the last round hadn't hit on Halloween. This is from 2004's JLA #90 by Joe Kelly, ChrisCross, and Tom Nguyen, in which Wonder Woman, in an artificially-induced dream sequence, uses the back of the Joker's head to refurbish a wall.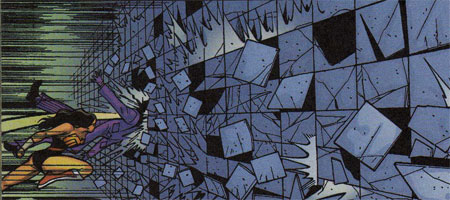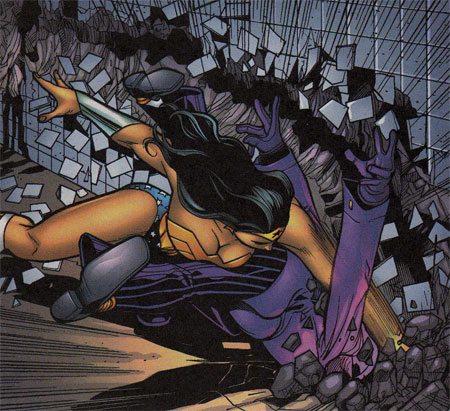 Wwwwwow. That's why ChrisCross is one of my favorite artists.
And finally: Bahlactus, thank you. I, and probably everyone else who's participated in and enjoyed Friday Night Fights, owe you a whole bunch of six-packs in gratitude for all this fun and mayhem. Thanks, thanks, a million, billion thanks.