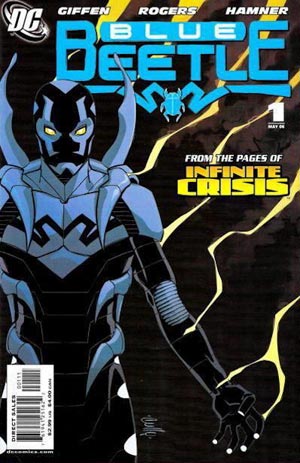 DC's outstanding "Blue Beetle" series is being cancelled.
One of the books that I'm most disappointed about in that regard is a book like Blue Beetle, which we are cancelling. That's a book that we started with very high expectations, but it lost its audience along the way. Recently, we felt that it was standing on firmer ground, and was getting a more positive response. The problem is that the firmer ground and positive response is not enough to keep the book afloat. So unfortunately, we had to cancel that series.
This comes on the heels of DC cancelling "Robin," "Nightwing," "Birds of Prey," and "Manhunter." That's an awful lot of prominent and well-regarded comics to toss onto the trash heap.
Of course, the problem is that DC is a business, and "Blue Beetle," no matter how much critical acclaim it's received, just hasn't sold well. And with the economy on a screaming downslide and everyone worried about rising unemployment, flat wages, and everything getting more and more expensive, leisure-based businesses, like comics, gaming, electronics, etc., are cutting back.
It's really kinda hard to fault DC here. They've given "Blue Beetle" lots and lots of time to find an audience, and for some reason, the audience has stayed away. I wish they could keep giving it more chances, because I love the book. I love the El Paso setting, I love the focus on Hispanic culture, I love all the awesome characters. I'll miss the book enormously, and the comics industry as a whole will be worse off for losing it.
So read the single issues while you can, pick up the trade paperbacks while you can. DC's best monthly comic is riding off into the sunset soon.