Wow, two comics came out this week about "The Spirit"! Sure, that means DC and Warner Brothers are trying to drum up some interest in the Spirit movie that's coming out in December — might I add, the Spirit movie that's coming out in December and looks like unmitigated garbage.
Ahh, but on to the comics for now…
The Spirit #23
Ooh, lookit! A cover by Joe Kubert! BONUS!
Anyway, in this story, the Spirit travels, with Commissioner Dolan and his daughter Ellen, to a dude ranch for a little Wild West R&R. Along for the ride: a wealthy industrialist, his unfaithful trophy wife, and his scheming assistant. When the industrialist is murdered, will the Spirit be able to pin down the murderer, even with the "assistance" of a dimwitted sheriff and a mysterious Indian?
Verdict: Thumbs up. Sergio Aragones and Mark Evanier's version of the Spirit is often too silly and not rooted deeply enough in the grime and grit of the city, but this is excellent storytelling, along with an enjoyable (if a little obvious) mystery.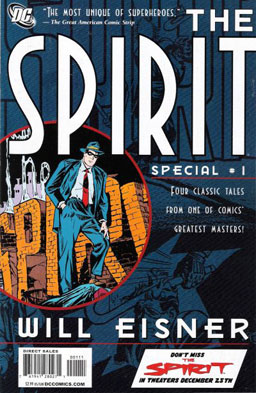 The Spirit Special #1
This is the real deal — four classic stories from Will Eisner himself, creator of the Spirit and one of comics' greatest storytellers. The stories range from 1947 to 1950 and are perfect examples of Eisner's pulpish, gritty film-noir style. We get one story featuring the villainy of the Octopus, a story about an assassin gunning for the Spirit, and a two-parter telling the story of Sand Saref.
Verdict: Thumbs up. This is beautiful, vital stuff. The most uncomfortable part of the entire thing is the story that includes the Spirit's sidekick, Ebony White. While the modern incarnation of the character is a perfectly normal kid, the version from the '40s was a crude minstrel stereotype. Modern opinions on the character consider him an unfortunate element of the story who still managed to transcend the era's racism, to some degree. But it may still make you really uncomfortable reading him.
Aside from that, again, it's an amazingly beautiful comic, and I recommend it highly. Get it and see how a true master put his comics together.