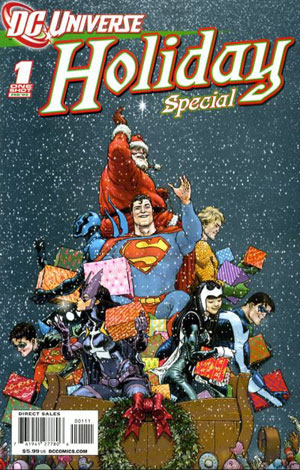 DC Universe Holiday Special
This is DC's annual holiday anthology, with lots of short stories about Superman, Aquaman, Commissioner Gordon, Blue Beetle, the Justice League, Dr. Light, Nightwing, Robin, Huntress, the Teen Titans, and more.
Verdict: Are the stories bad? No. Are the stories good. No, not really. Is it all worth the price on the cover? Well, the price on the cover is six bucks, and I gotta say, these stories are definitely not worth six bucks. Thumbs down.
Aww, but I don't want to leave you with just that one bad review. Let's review a couple of good comics real quick.
Ambush Bug: Year None #5
Ambush Bug works as a henchman for a low-rent supervillain called the Yellow Snow (Don't eat him!) and discovers that all 52 of the Monitors are after him. Not that the Bug cares too much — he's too busy traveling to the many alternate earths, including the sex-change world, the mirror universe, and Frank Miller World, where black bars cover up almost all of the dialogue. He learns that, though he managed to kill DC head honcho Dan DiDio last issue (Huzzah!), he's alive again (Booo!) and controlling the multiverse to make everything dark and edgy and grim (Booo! Nonfiction!). Things are so bad that arch-villain Go-Go Chex tries to enlist Ambush Bug's aid in putting down the menace of DiDio once and for all. But can anything stop the interstellar evil of Dan DiDio?
Verdict: Thumbs up. More silly jokes and visual gags. How great is it that this lengthy tribute to the evil of Dan DiDio is being published by DiDio's comics company? Oh, and Keith Giffen better stay out of any small planes.
Booster Gold #15
We start off with Booster and Skeets preventing Goldstar, Booster's sister, from posing for a certain famous painting of an enigmatically smiling woman by Leonardo da Vinci. After leaving 16th-century Italy, the time-jumping heroes discover that time has gotten all screwed up again. This time, they trace the disturbance back to the Gotham museum robbery from a few issues ago. Apparently, one particular knife was missing from the museum after the robbery — and when they return to the museum, Booster and Skeets are ambushed by the Elongated Man! Yay, Ralph Dibny! They have a nice team-up and almost catch the knife thief, but he escapes, and Booster ends up stranded on a ruined, muddy battlefield…
Verdict: Thumbs up. It's great to see Ralph in action again, and the rest of the story is good fun. Any story that can combine the Mona Lisa, the Elongated Man, and what appears to be a battlefield from World War I, is something that I'm pretty certain to enjoy.