I'd like to start a semi-regular series now about people from Lubbock who work or worked in comics, cartooning, and animation. There are actually a lot more than you'd expect, but let's start off with someone who just about everyone in Lubbock knows about: Dirk West.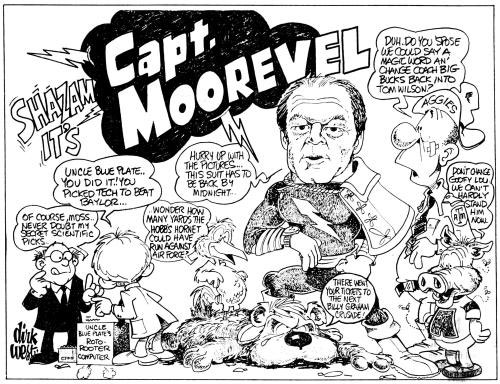 Dirk West was born in Littlefield, in 1930, but his family moved to Lubbock before he'd had his first birthday. He eventually attended Texas Tech, where he drew cartoons for the University Daily. After graduating, he appeared for three years as Uncle Dirk on a local children's television show, but gave it up when his new advertising agency grew large enough to need all of his attention.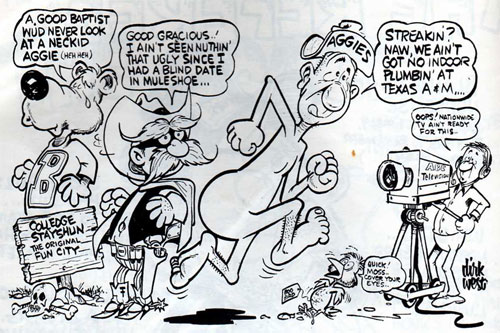 In the early 1960s, West began contributing sports cartoons to the Lubbock Avalanche-Journal. He drew two cartoons a week during football season, with each cartoon appearing in the sports section of the newspaper.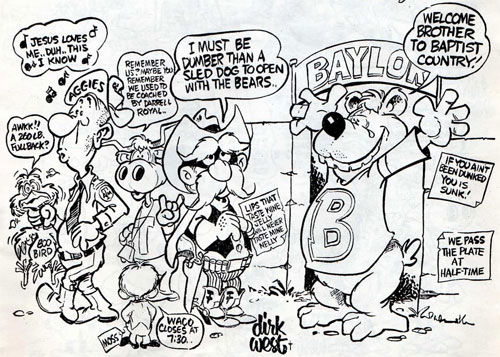 West's cartoons were — and to a large degree, still are — wildly popular in Lubbock. He created Raider Red to represent Tech's Red Raiders. Nearly all the other characters were mascots from other SWC teams. His cartoons were West Texas institutions for decades and were even appreciated by rival schools, even if just because they helped get their players psyched-up to try to beat the Red Raiders.
West entered politics in the 1970s, serving several years on Lubbock's Parks and Recreation Board and city council and being elected mayor in 1978. By most accounts, he was a good mayor, but he disliked politics so much that he refused to run for a second term. After getting out of the government biz, he returned full-time to cartooning and his advertising agency, which he continued clear up to his death of a sudden heart attack in 1996.
So far, he's the only cartoonist on the West Texas Walk of Fame.