Batman #686
This is the one everyone was anticipating this week — "Whatever Happened to the Caped Crusader?" with writing by Neil Gaiman and art by Andy Kubert. How to describe it? All of Batman's friends and foes are showing up at a sleazy bar in Crime Alley for a memorial service for the Dark Knight. Joe Chill is running the bar, Alfred is serving pie, and Batman is simultaneously mouldering in the casket and watching the proceedings invisibly. On top of that, the Riddler is played by Frank Gorshin, the Joker is played by Mark Hamill, and the one-armed Oliver Queen from Frank Miller's "The Dark Knight Returns" puts in a brief appearance. Clearly, this is not your standard funeral. Catwoman and Alfred both give eulogies recounting stories from Batman's career and how he died — both stories are unusually implausible and mutually contradictory. What's going on here?
Verdict: Thumbs up. This is primarily an exercise in Batman nostalgia, a bit like Grant Morrison's run in "Batman RIP," but this is less focused on Silver Age ephemera and more on everything from the Golden Age up. We get snippets from the original Batman origin, subtle shout-outs to neglected Batman co-creator Bill Finger, and artistic styles based on famous Batman artists of past decades. Catwoman wears costumes from the Silver Age, as well as her original cat-headed costume. Alfred's story, telling about how Batman's rogues gallery really came to be, is full of reminders of the Bat-legacy. This is good, it's definitely worth the $4 price tag, and the second part of the story is still to come.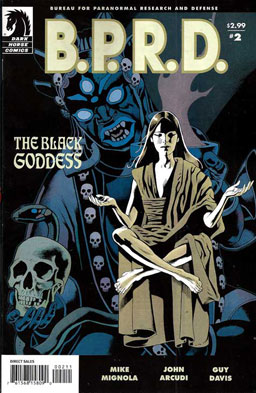 B.P.R.D.: The Black Goddess #2
The Bureau for Paranormal Research and Defense has taken a small division of soldiers to a monastery on the Chinese border to look for Liz Sherman and her kidnapper, Gilfryd. While Abe Sapien, Kate Corrigan, and Andrew Devon are invited into the monastery, Johann Kraus and the soldiers have to wait outside. Liz is in a trance, and Gilfryd reveals to the team that she is the only hope for the world's survival — the Frogs and their monstrous allies are massing in unstoppable numbers, with plans to kill everyone on the planet. And first on their hitlist? Johann and the soldiers outside.
Verdict: Thumbs up. The "B.P.R.D." series is getting more and more epic with every issue. As much as I've always loved Mike Mignola's artwork, I think I've actually been more impressed with what an outstanding writer and storyteller he's become over the last few years.