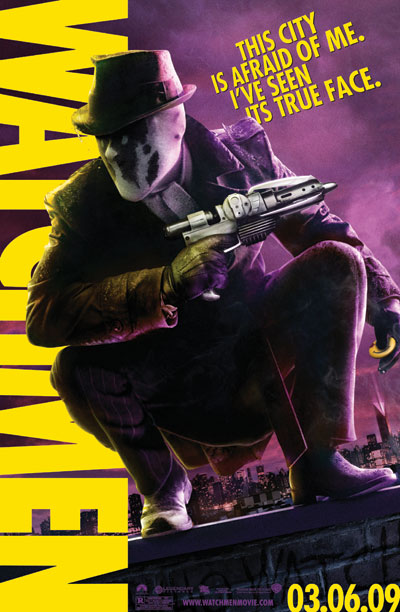 Just to show how out-of-the-loop I am, I had no idea theaters would be showing "Watchmen" tonight in a midnight showing. Makes sense now that I think of it, of course…
The question now is: Do I really want to go to the "Watchmen" midnight showing?
On one hand, this is a pretty terrifically big movie, just about every comic fan is gonna be there, and it might be fun to see it in a room full of enthusiastic comics geeks.
On the other hand, I rarely enjoy midnight showings, and I'm getting a bit nervous about whether this movie is going to be any good. Plus, there's likely to be a LOT of talking back to the screen — lots of "OMG, they took out the fourth panel from page 14 of Issue #7! ALAN MOORE WAS RIGHT!" And if that happens, I'm gonna hafta kill somebody.
The biggest strike against it? There's likely to be costumes. Quite possibly, there may be a chubby bearded geek whose Dr. Manhattan costume will consist of blue bodypaint and nothing else.
Brrr-rrr…
So whatcha think? Are you going to be at the midnight showing for "Watchmen" or are you going to put it off a bit?