Things have been a bit busy, so I've fallen a little behind on some of my reviews, so here are a couple I've had sitting on my desk for a couple of weeks.
Madame Xanadu #9
The story finally moves into the modern world — or at least the early 20th century. Nimue has moved to America, still hoping to get her revenge on the Phantom Stranger. She's also sleeping with John Zatara, future father of the superhero magic-user Zatanna. Nimue prepares a powerful binding spell designed to imprison the Stranger if he ever gets close to her. And in the background of all this, a cop named Jim Corrigan is making his way closer to the event that will turn him into the Spectre.
Verdict: Thumbs up. As I've said before, Amy Reeder Hadley's artwork is just extraordinary. I love the background work with Jim Corrigan, and Zatara's Italian heritage is played very nicely. Worst news about this comic? The next issue is going to be the last.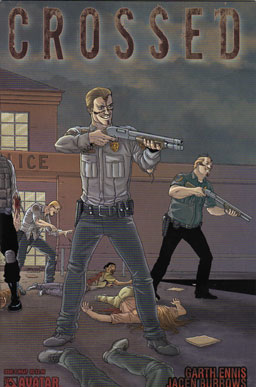 Crossed #4
Crisis follows crisis for the small group of survivors trying to escape the Crossed, the zombiesque sadistic mass murderers who have torn society down to the ground. They lose more allies to the weird Crossed infection, they watch the Crossed as they continue to evolve into smarter and more deadly opponents, and they do everything they can to get away before they're killed or turned.
Verdict: Thumbs up. It's gross, horrific, tense, and deeply unpleasant. I still say some smart film producer is eventually going to turn this into one heck of a horror movie.