Well, I spent all day yesterday getting moved into the new apartment. All the furniture is moved over, but I've still got a lot of little odds-and-ends to try to get moved. And I need to vacuum and scrub the bathrooms. In other words, I spent all day yesterday working like crazy, my feet hurt, and I gotta move a bunch more stuff over the next couple of days.
But even moving day madness cannot stop the highly necessary promotion of this Saturday's Lubbock Comic Book Expo — nor can it stop me from giving a shout-out to yet another talented Lubbock artist who'll be appearing at the Expo! Today, let's meet Marc Watson.
Marc was born in Aurora, Colorado, and has lived in numerous places around the Lone Star State. He is a 2006 graduate of Texas Tech and current Lubbock resident. He operates Stranded Studios here in the Hub City. He does a lot of work on murals around the city — he's painted murals at RC Wheels and Props, Dave's Need 4 Speed (that's the picture below), PetSmart, the main branch of Covenant Medical Center (and that's the pic above), and the new Covenant Women's and Children's Hospital.
In addition to murals, Marc has also worked in jewelry, sculpture, ceramics, sketch art, and life drawing. His latest project is a children's book called "Apples the Rat." He'll have a six-page black-and-white promo ready for the Expo, but the finished product will be fully painted in watercolor and 48 pages long. Here's a little of what Marc had to say about it:
As for the story, it follows our main character as he finds himself in a new place as well as a new sense of belonging. I tried to balance a book that had both a cute side but also a side that kids would think was cool and exciting. I want to also maintain an overall good moral, while still including the aspects of pirates that kids love, such as sword fighting.
Folks, he's talking about sword-fighting pirate rats, and I think that's something we can all get behind. The only way to make that more awesome would be to add gorillas or rocketcars, and that might be too much awesomeness for one children's book.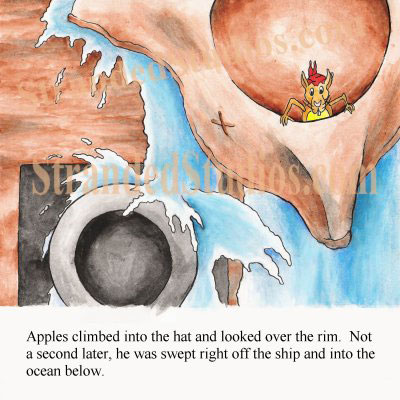 Again, Marc and Stranded Studios will be at the Lubbock Comic Book Expo this Saturday at the Lubbock Memorial Civic Center. Stop by and see him, as well as all the other local artists.