Atomic Robo and the Shadow from Beyond Time #1
Atomic Robo, the wiseacre, action-packed atomic-powered robot created by Nikola Tesla, is back for another pulp-flavored adventure, this time set in 1926. Robo is studying for his physics doctorate when he gets some unwelcome visitors — fantasy/sci-fi/horror author H.P. Lovecraft and weird-phenomena researcher Charles Fort. Many years ago, Lovecraft, Fort, and Lovecraft's father worked with Tesla to banish a cosmic horror from Earth, but it's coming back — or it's been here all along… With Tesla unavailable, can Robo help Fort and Lovecraft before it's too late?
Verdict: Thumbs up. First, anything that teams a snarky robot with Charles Fort and H.P. Lovecraft is guaranteed to appeal to me. And though this issue is extremely talky, it's also a great deal of fun. The first few pages, with Lovecraft gibbering along with his over-the-top pseudo-racism about Robo's pygmy ancestry, is extraordinarily funny. If the rest of the story is as good as the first issue, I'll be glad to come along for the ride.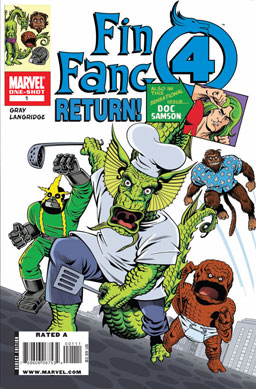 Fin Fang 4 Return! #1
This has its genesis in a story a few years ago where a bunch of giant monsters from Marvel's '50s era, Fin Fang Foom, Googam, Elektro, and Gorgilla, decide to reform, are reduced to human size, and take up jobs in the human world. So here we've got this short anthology of stories — first, the Hulk's pal Doc Samson tries to psychoanalyze the quartet of monsters. Next, Fin Fang Foom's job as a chef at a Chinese restaurant leads to an unexpected cure for baldness and an equally unexpected loss of the cure for baldness. After that, Gorgilla goes time-traveling and save Abraham Lincoln from assassination; Googam tries to get adopted by a Hollywood starlet to fund his quest for world domination; and the robotic Elektro gets mistaken for a completely different Electro. Finally, there's a reprint of a Christmas story as Fin reluctantly teams up with Dr. Strange's assistant Wong to stop Hydra's giant evil Santa Claus robot.
Verdict: Thumbs up. Yes, it's silly and inconsequential. I like stuff that's silly and inconsequential.
Captain Britain and MI-13 #12
Dracula and his army of vampires are continuing their war on England and MI-13. Spitfire, because of her vampiric heritage, is helpless to resist Dracula's orders and is forced to kill a civilian in Dracula's castle on the moon. The rest of the team, meanwhile, is trying to track down a magical artifact — the skull of Blade's old friend Quincy Harker, enchanted to prevent vampires from entering Britain unless they're specifically and individually invited. Unfortunately, Dracula's centuries of unlife have made him one of the greatest military minds ever, and he's thinking several steps ahead of MI-13.
Verdict: Thumbs up. Good bloodsucking fun. My only regret about this one is that Dracula isn't nearly as pompous or long-winded as he was in the classic '70s series "Tomb of Dracula."