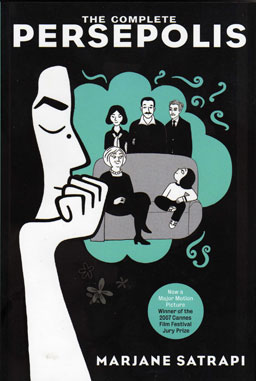 I've been avoiding opening my big mouth about the recent contested Iranian election — I know so little about the situation over there, and I don't want to be just another loudmouthed American shouter who thinks he's an expert just because he's read some blogs. I know there are a lot of folks out there who think Twittering about the Iranian election is their contribution to Iranian freedom, which honestly strikes me as colossally self-inflating: "I twittered about the election and re-colored my blog green in solidarity! That makes me a freedom-fighter even though I'm in no danger of being shot by Iranian soldiers!" Ya get right down to it, there ain't a single thing any Americans can do to influence this, no matter how much we might wish we could — it's ultimately all down to the Iranian people.
Oh, okay, I've got two observations about the Iranian election.
First, you remember Mir-Hossein Mousavi, the opposition candidate who officially lost the election but probably got it stolen from him, right? Not many people seem to realize that he was actually a member of Ayatollah Ruhollah Khomeini's government right after the revolution. So, yeah, almost certainly a better guy than Mahmoud Ahmadinejad, but no pure driven angel either.
Second, sorry to say it, but Ahmadinejad is a hard word to say. You think if we can trick him into saying his name backwards, he'll disappear into the Fifth Dimension for 90 days?
Okay, seriously, some of y'all may remember last year when I reviewed Marjane Satrapi's brilliant graphic novel "Persepolis" — Satrapi was in the news just a few days ago after presenting a document she thinks proves the election was fraudulent.
"Ahmadinejad received only 12 percent of the vote, not 65 percent," said Satrapi, according to Adnkronos. She and Makhmalbaf presented the document, which they claimed came directly from the Iranian electoral commission, to the Green Party MPs in the European parliament.

Satrapi and Makhmalbaf believe that the democratic process in Iran was derailed when election results were ignored and replaced with fraudulent results naming Ahmadinejad as the winner with more than 65 percent of the vote.

Satrapi, who was born in Iran to Marxist parents, discussed her personal and family histories in the country in "Persepolis" and has gone on to compose two more graphic novels "Embroideries" and "Chicken with Plums," the latter of which she and director Vincent Paronnaud are seeking to adapt into a live-action film.
Also, let me throw in one more plug for "Persepolis" — there's obviously no info about this most recent election, but Satrapi's graphic novel is definitely a great way to learn more about the Iranian people and see some of the ways that the last three decades of history have influenced them and their culture. I visited some of the local bookstores this weekend, and they look like they stocked up with a lot of extra copies of "Persepolis" — I reckon they think folks might be interested in an accessible and entertaining introduction to the Iranian people. Go out and pick up a copy today.