It's been a very busy month for zombies, what with DC's "Blackest Night" and — well, I guess it's mostly just "Blackest Night." But still, it seems like a good time to hit a thematically-appropriate non-comics book review…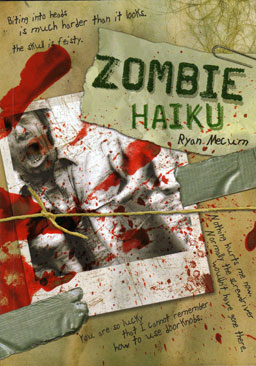 Zombie Haiku by Ryan Mecum

Published just last year by Ryan Mecum, a Presbyterian youth pastor in Cincinnati, the book is pretty much what you'd expect from the title — a bunch of 5-7-5 haikus about zombies. What makes this book so cool is its format — it's told as a story, starting with an amateur poet writing cliched haiku in his writing notebook, advancing through the first day of the zombie apocalypse as our hero is bitten by a pack of zombies, dies, and rises from the dead with a taste for brains. Our poetic zombie ends up eating his way through his family home, a nursing home, a picked-clean city, several farmhouses, and an airport. And wrapped in among all the haikus are zombie polaroids, bloodstains, crude sketches of brains, and poems on torn paper "taped" into the book with duct tape. It's beautifully illustrated, at least for those of us who love zombies.
Clearly, I couldn't write a proper review of this book without including some samples of the haikus. So let's start with our hero, still alive, on the run from the undead:
They surround the car
and are all moaning something.
Is that the word "trains"?!
In the early hours of his reanimation:
They are so lucky
that I cannot remember
how to use doorknobs.
In the process of eating everyone in the big city:
A man starts yelling
"When there's no more room in Hell…"
but then we eat him.
And much later, during an assault on a farmhouse:
Nothing hurts me now.
Normally, the screwdriver
wouldn't have gone there.
So basically: funny, gross, very imaginative, and messily drenched in modern zombie lore. And not too expensive either — the price tag on the cover is just ten bucks. Definitely a thumbs up from me.