Strange Tales #1
You may remember back in 2002, DC put together a project called "Bizarro Comics," where they let a bunch of independent and small press cartoonists create stories about their superheroes. Well, Marvel finally decided to give that a try. This is the result — Paul Pope creates a story of the Inhumans as Lockjaw repeatedly tries to get someone to give him some dog food. Junko Mizuno puts Spider-Man and Mary Jane in a city of adorable spiders. Dash Shaw pits Dr. Strange against Nightmare. James Kochalka creates a bunch of different colors of Hulk. Johnny Ryan spotlights Marvel's most embarrassing moments and introduces the Punisher as an academic counselor. Michael Kupperman notes that the Sub-Mariner is always disgusted with humanity. Nick Bertozzi chronicles MODOK's tragic love life. And Peter Bagge's near-legendary "Incorrigible Hulk" finally sees print.
Verdict: Thumbs up. This is an outstanding and very funny comic. Dr. Strange struggles not to yawn, Namor craves pizza, the Watcher is a peeping tom, Spidey eats bugs, and Wolverine misinterprets a blue hair. The best stories are Pope's wonderful story about Lockjaw and the Inhumans, and Bertozzi's genuinely sad story about MODOK. Best line? "I have to get my evil unicorn." Best thing about this comic? Marvel is going to release two more issues in the coming months.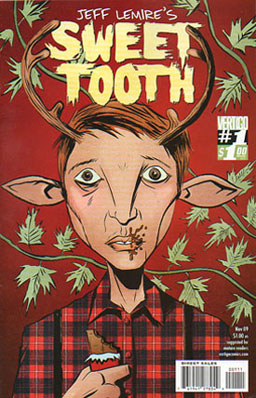 Sweet Tooth #1
This is the first all-color comic by Canadian alt-cartoonist Jeff Lemire. It focuses on a kid named Gus who has antlers and other deer-like features. He lives with his dying father in the wilderness — some sort of apocalyptic accident has caused children to be born as human-animal hybrids, and that's made them all targets, though we never learn if they're subject to extermination, capture, or something else. Gus has never seen another human other than his father, and when he dies, Gus is left on his own. Can he survive a hostile world he knows nothing about?
Verdict: Thumbs up. Weird, quirky, and sometimes intensely cinematic. Gus and his dad are both wonderful characters, and his dad's death hits Gus and the reader hard. The scene where Gus meets the deer is short but amazingly cool. And there are a couple of bonus reasons to pick this up. First, it's just a dollar. Just one freakin' buck! One measly simoleon! You can afford that! Second, Lemire has an offer for you — send him your copy of the comic with a self-addressed envelope, and he'll sign the book and send you an original sketch. (Check here for address and other details.)