Okay, it's Friday evening, and that means many things to many people. It's the start of the weekend and… and… Well, okay, it's the start of the weekend, and that's all that really matters to most of us. But that alone is reason enough to celebrate with some FRIDAY NIGHT FIGHTS!
So SpaceBooger wants all the fights to focus on kicks, stomps, and the like. That's why he's been calling this newest incarnation of Friday Night Fights "Feet of Fury."
Well, I think I've just found the ultimate stomp. Sure, Shiang Chi, Master of Kung Fu may kick guys all over the place. Sure, Spider-Man and Batman are pretty good with nailing bad guys with well-aimed kicks. They can all do a lot of damage with those kicks.
But none of them can do this: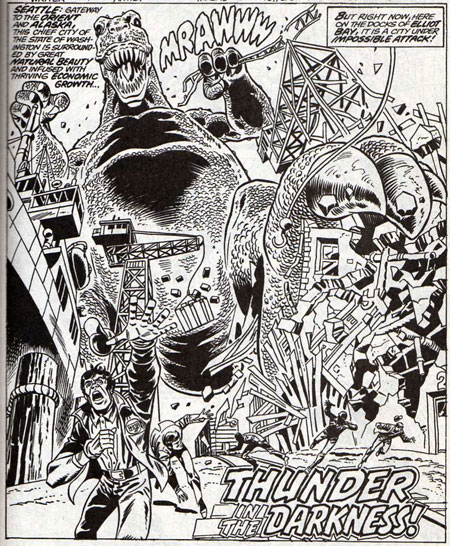 Godzilla, from September 1977's Godzilla: King of the Monsters #2 by Doug Moench, Herb Trimpe, Frank Giacoia, and George Tuska, stomps Seattle to rubble without even trying.
Try to beat that with your lame crane stance, Karate Kid.