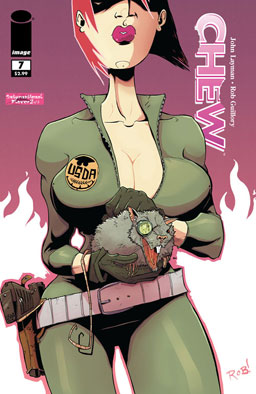 Chew #7
Tony Chu, an FDA agent who can absorb the memories from anything he eats, has traveled to a tiny Pacific island called Yamapalu on the trail of something that tastes like chicken but seems to be a fruit. He immediately runs afoul of Lin Sae Woo, a curvy butt-kicking secret agent for the Department of Agriculture, who thinks he's trying to take over a case she's tracking on the island. After a violent confrontation on an elevator, they decide to work together, but there's another player on the island who may be too tough for either of them to take down.
Verdict: Thumbs up. Funny and violent and rude and awesome. I'm disappointed that Tony's cyborg partner Colby has already been pushed into the sidelines, but the rest of this is pretty good.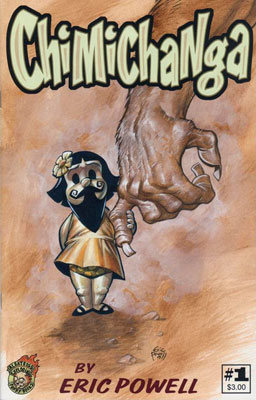 Chimichanga #1
Now here's one that's plenty-plenty weird, but it's by "Goon" creator Eric Powell, so I figured it's worth a look. The star of the book is an adorable little girl with a dashing and well-groomed beard. She lives at Wrinkle's Traveling Circus, along with the other freaks, like Heratio the Boy-Faced Fish, Ezmerelda and her Amazing Two-Eyed Goat, and Randy, the Man with the Strength of a Slightly Larger Man. One day, she heads out to buy a delicious chimichanga, runs into a gassy witch named Dagmar, and trades a lock of her beard for a wagon and a big shiny rock. When the rock hatches into a big, hungry, pop-eyed monster, the little girl may have stumbled onto the perfect way to save the circus.
Verdict: Thumbs up. It's funny and goofy and bizarre, but these two panels were all it took to win me over: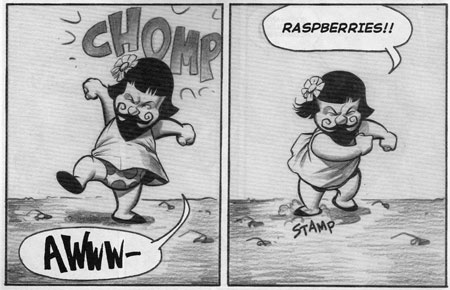 "Aw, raspberries!" Holy Spumoni, that's just too cute.