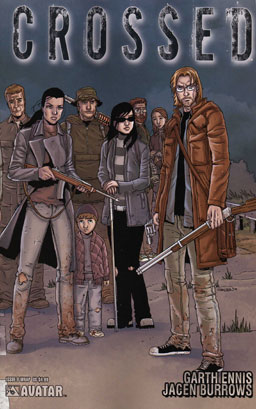 Crossed #9
It's the final issue of this epic pseudo-zombie series by Garth Ennis and Jacen Burrows. Stan and Cindy bury Cindy's son, Patrick, while Kitrick, Thomas, and Kelly find themselves being stalked by the gang of Crossed who have been after them for the last few hundred miles. And I'm gonna stop describing the story right there — if you've been reading and enjoying this series the way I have, I reckon you deserve to find out the final twists and turns on your own. For some of the characters, it's not a happy ending, and for others, it's at least not a sad ending.
Verdict: Thumbs up. A great ending to one of the more enjoyable and brutal horror series I've read in a while. As I've said repeatedly, this isn't a story for kids — it's an extremely violent, terrifying comic, designed for grownups who can handle blood, guts, cussin', and really awful, unromanticized violence. If you've been reading "Crossed," you sure won't want to miss this last issue. If you haven't been reading it, and you want to give it a shot, keep your eyes open for the collected edition whenever they put it out.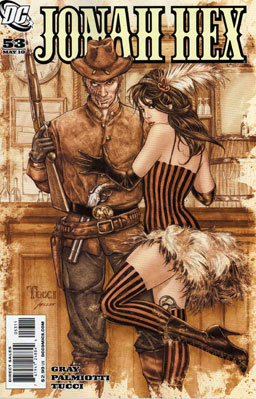 Jonah Hex #53
Jonah Hex, the meanest, rottenest bounty hunter in the Wild West, hires a dance hall girl — and not for the usual purposes. He's after the train-robbing Hager brothers and needs her to help him sneak aboard a train in preparation for ambushing the gang. Things go fairly smooth, other than having to kill most of the gang members — until the inevitable double-cross.
Verdict: Thumbs up. Short, simple, clever, and brutal, just like the best Jonah Hex stories.