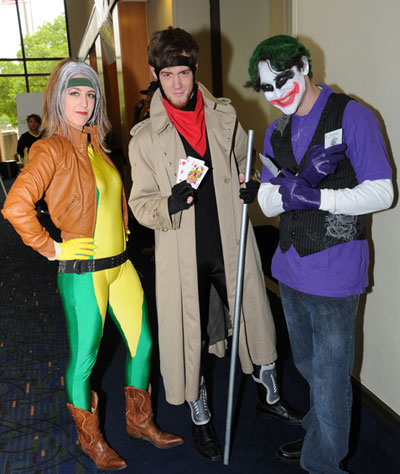 So the Lubbock Comic Book Expo — possibly the last Lubbock Comic Book Expo for a while — happened Saturday and Sunday. I brought a camera so I could take a ton of pictures… but it turned out it was an old camera that was out of batteries, didn't have a good memory card, and wasn't really working very well anyway. So I didn't get any pictures. The one above came from the A-J's "Spotted" gallery for the Lubbock Arts Festival.
And I missed a lot of the folks I wanted to see. I went early in the day on Saturday, 'cause that would give me the most time to visit family for the rest of the afternoon, but I suspect a lot of the folks I was looking forward to seeing probably showed up later in the afternoon or evening.
Still, I had a great time, got to visit a lot of folks, meet a few more folks, got to buy quite a few sample booklets, watched a bunch of kids and parents drawing at the sketch tables, snagged an utterly mad '60s-era issue of "Action Comics" that I may need to scan for giggles later, and had a plenty good time. I missed seeing anyone dressed up in costume, other than the nice-but-Karo-blood-drenched folks running the "Nightmare on 19th Street" booth.
Not sure how many attendees there were, but as of early afternoon on Saturday, it looked like there were quite a few, and the numbers were increasing pretty steadily.
Will there be more Expos or Comic Cons in Lubbock? It's hard to say — it's usually just Will Terrell and Robert Mora doing most of the organizing and planning, and they're probably not keen to continue taking a couple months out of their busy schedules to do 90-95% of the work for the conventions. I'm keeping my fingers crossed that we'll see more conventions — and more people taking on some of the work of organizing them — because it's clear that there's a lot of public interest in comic conventions and comic artwork.