The Unwritten #12
This was one of my favorite comics from last week, 'cause it's got such a great hook.
We don't see Tom Taylor or any of our other main characters this week — our focus is on Pauly Bruckner, a guy who's stuck in a very bad situation. Pauly used to be a normal guy, a bit dishonest, who once made the mistake of breaking into the home of Wilson Taylor, famous author of the "Tommy Taylor" novels. And now Pauly is a bunny. A cute fluffy bunny with long ears and twitchy whiskers and a smart vest and a darling cravat and his home in the side of a hill in Willowbank Wood. Pauly hates Willowbank Wood, he hates living in a syrupy-sweet children's story, he hates the other animals who act like twits and get nervous when he swears and tries to kill them, and he's willing to do anything to get his old life back.
Verdict: Thumbs up. It's like a hard-boiled crime novel taking place inside "House on Pooh Corner." Does that make it awesome? Oh, heck yes, it's awesome.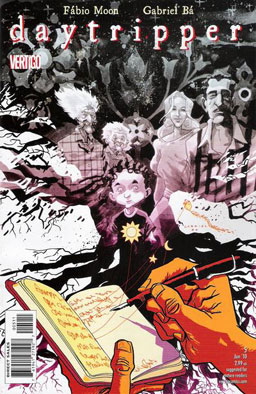 Daytripper #5
Brás de Oliva Domingos is now 11 years old. He's living a pretty happy life, hanging out on his grandparents' ranch, eating, listening to stories, flying kites, staging duels between beetles and frogs, and telling his cousins his favorite family story — that he was born dead during a blackout, but miraculously returned to life at the same time as the lights came back on. And in the end, something that is, by now, very much expected, comes to pass.
Verdict: Thumbs up. An interesting change of pace here — a look into Brás' childhood. By now, I think it's safe to tell this series' special gimmick, yes? In each issue, we get some important day in Brás' life, and at the end of each issue, Brás is killed. And it's interesting that this may actually stem from his death and rebirth as a newborn. Anyway, great story, very charmingly told, and wonderful artwork. Please go pick up this series — so far, it's been a great ride.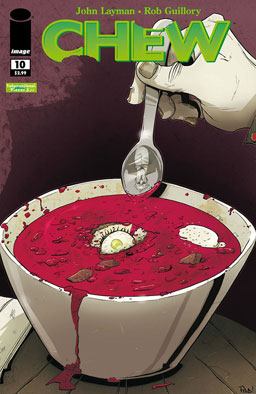 Chew #10
FDA agent/cannibal Tony Chu is running around the tropical island nation of Yamapalu, trying to keep himself, the girl he loves, and his brother alive in the middle of a rooster-inspired civil war. And it's all complicated by a freakin' vampire. Is everyone going to survive, or is somebody going to get their face eaten off by a freakin' vampire?
Verdict: Ehh, thumbs down. This one just didn't have the same oomph that the rest of the series normally has.