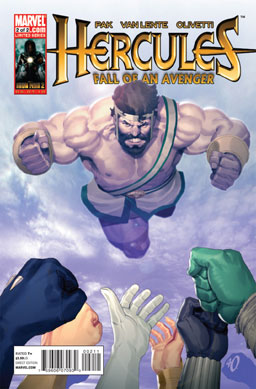 Hercules: Fall of an Avenger #2
Hercules is dead, as are Zeus and Hera, so Athena declares herself the new queen of the Olympian gods, and she wants Amadeus Cho to be her mortal champion on Earth. Not everyone is happy with that — most of all Amadeus, who doesn't trust Athena a bit. Her fellow gods also have some objections — Apollo steps forward to challenge her, and the gods start picking the mortal proxies who will fight for them. Athena picks Amadeus, Apollo chooses the late Ares' son, who is now Phobos, the demigod of fear, Poseidon chooses Namor, Artemis chooses Skaar, Nyx, the goddess of night chooses Nightmare, and Hebe picks the temporarily Hulk-less Bruce Banner. Three powerhouses vs. one powerhouse and a couple of smart guys? This is gonna be a pretty one-sided fight, isn't it?
Meanwhile, in the backup "Agents of Atlas" story, Venus and Namora are settling Hercules' estate. They visit an island orphanage only to meet up with a horrific, multi-headed, tentacled dragon. But they soon learn that the dragon is actually a little girl with a bunch of dragon-headed limbs, and that the whole island is a refuge Hercules set up for young, orphaned monsters, both growing children and a number of terminally-ill kids. With orders from the Olympus Group to shut down Hercules' holdings, can Namora and Venus find a way to make everyone happy?
Verdict: Thumbs up. The first story was just fine — lots of exciting and clever action. But the real winner here is the backup story. It's a very sweet, sad, genuinely touching story. And it's cuter'n heck, too — I thought the giant spider pulling the little centaur girl in her little red wagon was really adorable, though I've got a bit of a twisted sense of cute. Still, it's definitely worth picking up.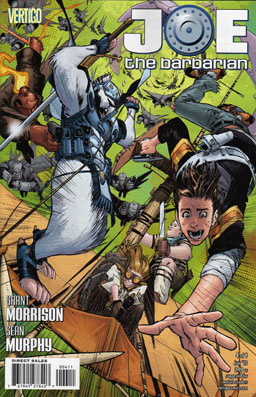 Joe the Barbarian #4
Joe's slowly going into diabetic shock and hallucinating a whole fantasy world based on his own home — or is he? He's traveling with Jack, a humanoid rat, and Smoot, the world's tallest dwarf, when they meet up with a city full of technological magicians. The magicians have a bunch of weapons that could be used to fight King Death and the Deathcoats, but they've actually taken sacred vows of cowardice. They offer the travelers guidance for the journey ahead, but King Death's armies soon attack. A lone apprentice magician, Zyxy, offers her aid and the use of her flying machine to help them all escape — but are they really escaping? Or just plummeting?
Verdict: Thumbs up. Exciting stuff going on here — and it's pretty funny, too. The magicians' idea of magic runs toward inventing cigarette lighters and batteries, which they treat as superstitiously as they can. Zyxy looks like she'll be a fun hero, as well, and a great addition to Joe's motley band.
The Brave and the Bold #33
I decided to give this one another shot. And I'm gonna spoil the whole story for you, so if you don't like that, ya better start runnin' now.
You'll notice the Barbara Gordon version of Batgirl walking around on the cover — this is a story set some time in the past. Zatanna wakes up in the night after experiencing a prophetic vision. She calls Wonder Woman, and they both seek out Batgirl to convince her… to go dancing with them? All three have a long night visiting as many clubs as they can, then Wonder Woman starts dropping hints about… Oracles. She talks about the mythological oracles who could see the future, but who could do nothing to prevent bad futures without making things even worse. And we finally get the big twist — Zatanna is an oracle who just foresaw that Barbara was about to be shot and paralyzed by the Joker, and the entire outing was to give her one more night of dancing and having fun.
Verdict: Well, now, let's talk about this one a little. On the one hand, we've got Cliff Chiang and his always outstanding, gorgeous artwork. We've got some nice interplay between the trio of heroines during their pub crawl. We've got some nice bits of humor here and there. Those are on the plus side. Unfortunately, the negatives are all on the other side.
The story from Alan Moore's "The Killing Joke" has been told and retold multiple times, but J. Michael Straczynski turns in the only one I've ever seen that really gets right down in the muck and wallows in Barbara's fast-approaching shooting. Reading this just makes you feel dirty, like you're sharing headspace with JMS's faintly sadistic pleasures.
And there's also the bizarre anachronisms of the story. The events from "The Killing Joke" took place quite a few years ago, as the DC Universe reckons — but this story features a prominent iPhone joke and a scene where the three heroines go to a karaoke bar and sing Beyonce's "Single Ladies." This comes across as just ridiculously inept, and it serves to rip you right out of the flow of the story.
So yeah, a thumbs down. The only thing that keeps it from being multiple thumbs down is the sheer awesomeness of Chiang's artwork.
Straczynski is about to take over "Wonder Woman" in a few months. Judging by how awful his run on "The Brave and the Bold" has been, I can't be the only person who's dreading how this is going to turn out, right?