I had a pretty good haul for Free Comic Book Day on Saturday — I hope you did, too. Here's what I picked up…
Love and Capes #13
A lot of the comics you get on Free Comic Book Day are there to promote upcoming comics and crossover events, but this isn't "Love and Capes: The Free Comic Book Day Edition" — this is the actual 13th full issue of "Love and Capes," not filler, not a backup story, not a snippet, not a pinup book, and Thom Zahler put it out there completely free, which is pretty danged awesome.
In the previous issue of "Love and Capes," Abby and Mark (better known to the world as the high-flying hero Crusader) got married after a long, whirlwind romance. This issue, they wrap up their honeymoon in Hawaii, get used to married life, work out a way to hide Mark's wedding ring when he's on-duty so supervillains don't realize he's gotten married, and work through the gossip about their own wedding reception.
Verdict: Thumbs up. "Love and Capes" is an incredibly fun comic, and it was fantastic to get it for free. Heck, I think there's a pretty good chance that this was the best comic produced for this year's Free Comic Book Day.
Iron Man: Supernova
This is basically an extra story from the "Marvel Adventures" comics series. Iron Man and Nova get called out after a report that Red Ghost has escaped from prison. His Super-Apes — Mikhlo the superstrong gorilla, Peotr the telekinetic orangutan, and Igor the shapeshifting baboon — are being held at a zoo-like facility, where Igor appears to have reformed — he now loves candy much more than he loves Red Ghost. Well, who can blame him? Red Ghost, however, succeeds in getting Mikhlo and Peotr to break loose. Do Iron Man and Nova have a chance of stopping Red Ghost and his Super-Apes when one of their allies is an ape that loves to goof off and shapeshift?
Verdict: Thumbs up. Very nice story. No, wait — it's a very nice story that's crammed full of apes! Igor's wacky shapeshifting is a lot of fun. Paul Tobin is also the writer on "Marvel Adventures: Super Heroes," which is already one of my favorites.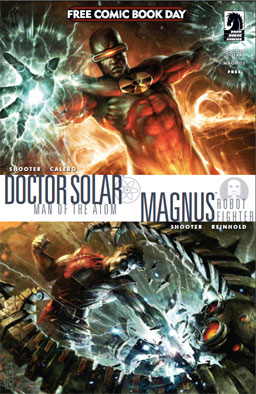 Doctor Solar, Man of the Atom/Magnus, Robot Fighter
Dark Horse is bringing these two semi-classic comics back. First, we get Doctor Solar, a scientist transformed into a god during a nuclear accident. Unfortunately, his transformation also created a number of random space-time anomalies, one of which empowers an abusive drunk who's way more likely than Doctor Solar to beat up people who get in his way. Second, we get Magnus, a man who lives in the year 4000. He's been trained in a special kind of martial arts that lets him break steel with his bare fists, so he goes out and beats up criminal robots. His allies include a robot called 1A and the wealthy Leeja Clane.
Verdict: Ehh, I'm completely ambivalent. Jim Shooter's stories seem fine, but both Solar and Magnus have always seemed like characters that don't make sense when you remove them from the cheesy 1960s comics where they originated. We'll see if Dark Horse can get 'em to work out.
Artifacts #0
Top Cow's new crossover is going to focus on bringing together 13 mystical artifacts in an attempt to destroy the world. This issue takes the form of an unseen villain feeding information to a captured Aphrodite IX, a green-haired cyborg assassin, about the Witchblade, the Darkness, the Angelus, and ten other quasi-magical items that keep Top Cow's superhero universe spinning.
Verdict: Well, it's free. But other than that, it's a promo for a crossover that won't be published 'til July.
Owly: Breakin' the Ice
Well, they had this on the table, and I'd been looking for an excuse to check out this series… but it turns out this one isn't from this year's FCBD comics — it's from all the way back in 2006! Andy Runton's cartoon about a lonely but loving owl is almost completely wordless, making it a great comic for very young readers. In this story, set during a cold winter at the local pond, Owly and his friends Wormy and Scampy try to figure out how to make friends with a flock of migrating geese.
Verdict: Thumbs up. Very, very cute, and outstanding cartooning. I wish I'd realized I hadn't picked up this year's free Owly comic, but I'm still glad I got to read this one. Parents, you should definitely consider this series for pre-readers.