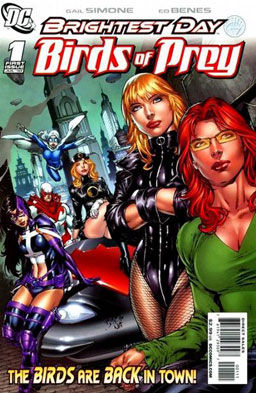 Birds of Prey #1
Huzzah! "Birds of Prey" is back! With Gail Simone still writing it! And with Ed Benes on art! Oh, wait, that's not good. Ed Benes' main artistic skill is drawing girls' butts. Well, at least Gail Simone is writing it!
We start out with Black Canary very gratifyingly beating the snot out of a kidnapper in Russia while Lady Blackhawk provides air cover. Then they and Huntress get a call from Oracle — she's getting the gang back together. While Lady Blackhawk recruits Hawk and Dove, Barbara tells Huntress and Black Canary why she needs them back — she's getting blackmailed by someone who's compiled every important secret there is about every superhero and supervillain in the world. If the Birds of Prey don't go after him, he's going to release the entire list in mere hours. And even if they do go after him, he's going to kill someone on the list once an hour until they stop him. But who's really behind this scheme? And do the Birds have a chance to survive?
Verdict: Thumbs up. It's great that this series is back, especially with Simone in charge. Benes' more unsubtle cheesecake impulses are at least reined in, which makes his artwork more bearable. I'm not sure how thrilled I am to see Hawk and Dove here — both of them just bore me to tears, but maybe Simone has a plan for 'em. I also wish Misfit were in this one. As for the story itself, I'm pretty pleased with it. The opening scene is just plain awesome, and the impending crisis and the confrontation with the blackmailer on the last pages is very good. Definitely looking forward to reading more of this one.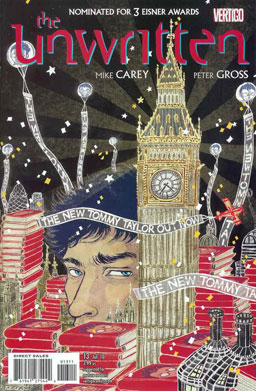 The Unwritten #13
Tom Taylor has been lying low for a few months, along with Lizzie Hexam and Richard Savoy, as they try to avoid tipping off the authorities that they're still alive. Meanwhile, the world is abuzz about the brand new Tommy Taylor novel that's about to be released. The evil literary assassin Pullman is being prepped to kill both Tom and his father Wilson. And it turns out that the new Tommy Taylor novel is a complete fake — the evil conspiracy is publishing a completely crap-quality novel in an attempt to get Wilson Taylor to come out of hiding. Tom and Savoy both run into old acquaintances — one a friend and one a great enemy…
Verdict: Thumbs up. A very nice start to a new storyline. Characterization, dialogue, artwork — this one hits everything it needs to. And hey, pay attention to the captions on the TV reports in the story — there are a few good laughs lurking in there…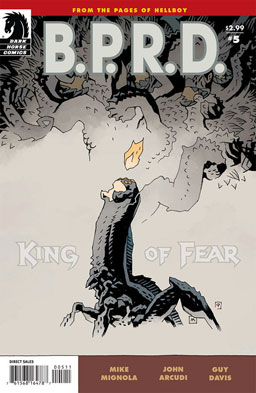 B.P.R.D.: King of Fear #5
And here's the wrapup of another BPRD storyline. In the aftermath of last issue's disasters, the field team is in the hospital, the islands of Borneo and Sulawesi have been completely destroyed, and a gigantic insectoid leviathan has appeared on the Salton Sea in California — it's emitting some kind of noxious gas that turns people into monsters. Director Manning, Kate Corrigan, and Johann Kraus are getting raked over the coals by the UN — although the BPRD also gets some very good news out of their interrogation. The field team doesn't trust Abe Sapien anymore, the frequently evil megacorp Zinco is trying to appear humanitarian, and Liz Sherman turns up alone in Bangkok.
Verdict: Thumbs up. A good finish for a frequently confusing storyarc, with some new status quos for everyone and new mysteries on the horizon. It's been implied that things are just going to get worse and worse in future storyarcs — hopefully, the storytelling will continue to improve.