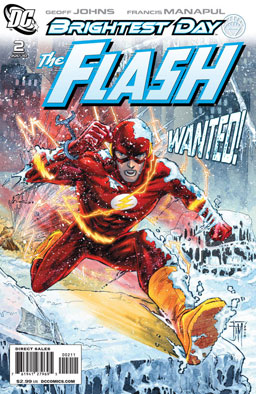 The Flash #2
Flash is confronted by a bunch of guys who look like the Rogues and have the Rogues' powers, but they're actually a bunch of superpowered policemen from the future who claim that they need to arrest him for the future murder of one of their fellow officers named Mirror Monarch. He's able to force them all back to the future, but the chronal mishap ends up destroying a nearby apartment building. Flash evacuates the building and then completely rebuilds it. Meanwhile, Captain Boomerang runs into Mirror Master and Captain Cold in prison, who tell him that, due to the way he let himself go before he was killed, they're not just going to let him back into the Rogues until he can prove himself by giving the Flash as much trouble as possible. Back at the precinct house, Barry Allen opens a closed case that his boss wants to stay closed, plus he gets some bad news about the Mirror Monarch investigation.
Verdict: Ehh, not that enthused, sorry to say. The story seems fine, but this is all stuff that Barry did back in the old days. This title needs to prove that Barry Allen's resurrection served some purpose other than letting Geoff Johns write about his old Silver Age heroes.
Daytripper #6
Brás de Oliva Domingos is now 33 years old, writing obituaries for a Brazilian newspaper. But his role at the paper gets a lot more prominent when there's a colossal plane crash, and he's tasked with helping families find closure by writing obits for all of the victims. And while he's trying to create tributes to all the plane's victims, he's also upset because his friend Jorge has disappeared. Was he on the plane? Is he safe? Alive? And how does Brás' fate intertwine with a long-haul trucker?
Verdict: Thumbs up. Another beautifully written and illustrated story from Fábio Moon and Gabriel Bá. Brás' ongoing depression about Jorge and the difficulty of writing about a national tragedy is nicely contrasted with excerpts from his heartfelt obits for the victims of the crash. And the covers of this comic have all been absolutely brilliant so far — someone better be framing these somewhere, or printing them up in a book…