I got a great big stack of comics sitting on the desk, all ready to start reviewing for the week.
And I'm also getting a bit tired of blogging. The weather is nice, I've got a stack of interesting new games I could be playing, I've got a bunch of books I never have time to read, and I've got non-blog writing I've been wanting to do forever. The blog gets in the way of all of that.
So here's what I'm gonna do — get all these comics reviewed today, then take most of the rest of the week off, except for Friday Night Fights. Maybe I can recharge my batteries, maybe I'll get some writing done, maybe I'll actually finish a book for once.
So here we go…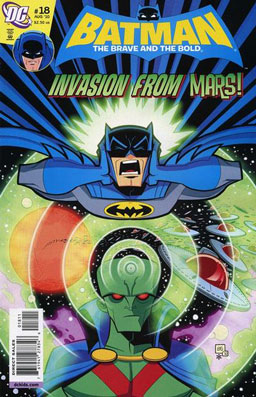 Batman: The Brave and the Bold #18
Batman teams up with the Martian Manhunter to take on Ma'Alefa'Ak, the other last survivor of Mars, and later, Dr. Fate assists when Batman is possessed by the evil Martian.
Verdict: Thumbs up. Fun story with a few twists and turns. Evil Batman is lotsa fun.
The Flash #3
Captain Boomerang gets magic black-lantern boomerangs, Barry Allen gets in trouble at work, and the Flash gets chased by the futuristic Rogue-inspired cops
Verdict: Thumbs down. It's just not particularly fun or exciting.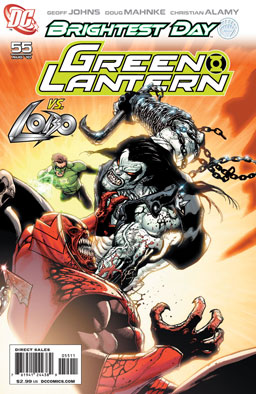 Green Lantern #55
Lobo's in town, and that means a bunch of ring-slingers are gonna get beat up. All that, plus the origin story of adorable rage-filled Red Lantern cat Dex-Starr!
Verdict: Thumbs up. Lots of great stuff, including Hal on a space motorcycle. And the Dex-Starr origin is worth the price of admission all on its own.
Heralds #5
Nova has kidnapped Valeria Richards, and all the heroines have to go into space to rescue her. Will Frances the diner waitress be able to assist with her mysterious connections to Nova? Or is someone gonna die?
Verdict: Thumbs down. Not enough of Tonci Zonjic's artwork. Too much confusion in the plot. A whole lot of stuff unresolved. This series started really well — I'm disappointed it ended so poorly.
Joe the Barbarian #6
Joe makes it to Hearth Castle, a deeply friendly and comforting place, where everyone promises to make his life completely happy. But Zyxy and Smoot track him down and try to get him to return to his quest.
Verdict: Thumbs up. Two issues left 'til the end of this one. Joe has to get a soda and try to save both himself and this weird little fantasy world that may be a lot more real than we expect.
Legion of Super-Heroes #2
While the Legionaires try to clean up after the destruction of Titan, Saturn Queen takes control of Ultra Boy, Earth-Man tries, probably deceitfully, to win his new teammates' trust, and Saturn Girl travels time to find her children.
Verdict: Thumbs down. Too much stuff happening! Come on, it's just the second issue — shouldn't there be a little lead-up before we get this many subplots going on at once?
Madame Xanadu #24
Rosalyn is trying to live a normal life, but she's begun to see visions of normal people with horrific injuries — visions that no one else can see. Can Madame Xanadu help cure her?
Verdict: Thumbs up. Very nice work, great setting details for 1963. Rosalyn is a very appealing character. The art by Marley Zarcone is different than normal for this book, but it works very well.
Supergirl #53
The War of the Supermen is over, and New Krypton is destroyed, and now Supergirl doesn't much wanna be Supergirl anymore. But a new Bizarro Supergirl may soon force that issue.
Verdict: Thumbs up. Nice characterization, nice dialogue, cool art. Supergirl's desire to get out of the spandex-wearing career is written really well.
Aaaaand that's that. See y'all Friday evening.