Strange Science Fantasy #1
This was really, really nice, but I'm really not sure how to describe it. Think of it as a combination of a '50s atomic horror movie and a '70s teen rebellion drag race exploitation flick. It was written and illustrated by Scott Morse without anything like word balloons — just hyper-cool artwork and breathlessly excited captions.
Here's the thing — I started reading this, couldn't get into it, set it down, and moved on to another comic. After a few minutes, I realized what I was doing wrong. I picked it back up and started reading it out loud, with the voice of an announcer from a '50s sci-fi movie trailer and with an internal soundtrack by Rob Zombie.
At that point, lines like "The time: Soon! The place: The asphalt! The world of speed-demons would complete their final lap on a crash-course… with destiny!" made perfect, flame-scorching, skin-flaying sense. It was the least passive comic I'd ever gotten to read, and it felt awesome.
Verdict: Thumbs up. Not just for Scott Morse creating an epic, cinematic comic, either. The actual tactile feel of the book is great, too — not your usual glossy paper, it's rougher and heavier, and it feels like a pulp novel in your hands. IDW Publishing did a great job with this one.
Somewhat off-topic, but big kudos to IDW, Dark Horse, and Boom — they're the companies doing the best work to move comics forward as an art form and storytelling medium, not Marvel or DC.
The Unwritten #15
Lizzie Hexam has returned to her original home — which may be inside some Dickensian novel. Apparently, she was pulled out of it and offered a better life in the modern world as someone who would study and keep track of Tom Taylor. Now she briefly gets stalked by some London lowlifes, but she dispenses with them with some well-aimed shots from her very modern gun. Meanwhile, Tom and Savoy are being led around the city by a series of clues — each is a reference to a famous work of British literature that sends them to a new location in London. But eventually, the police catch up to them and realize they're dealing with the infamous murderer Tom Taylor — and then the vampiric Count Ambrosio attacks. But they're finally saved by Wilson Taylor himself, Tom's long-missing father and the author of the world-famous Tommy Taylor novels. But isn't evil literary assassin Pullman looking for a chance to rub Wilson Taylor out?
Verdict: Thumbs up. Not the best issue of this series, but still pretty good. Good dialogue, decent action, fun clue-tracking, and it's nice to finally get a glimpse of Wilson Taylor himself.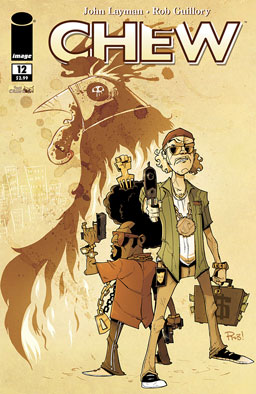 Chew #12
Tony Chu, cannibal for the FDA, is enjoying cohabitational bliss with his new girlfriend, Amelia Mintz, the world's greatest and most vivid food reviewer. But he's called away so he can help the FDA track down Poyo, a rooster in a luchador mask who is the most devastating cockfighter in history. (I can say "cockfight," can't I? Cockfight. There, I did it. HA HA.) Poyo has been stolen away by some crooks, so the FDA assigns Tony to go with one of their more rotten stool pigeons to try to buy the bird back. But the crooks have personal grudges against the stool pigeon, and they're willing to let Tony get killed in the crossfire. Can Tony use a single bullet to get free?
Verdict: Thumbs up. Very clever story, lots of amusing situations, and a great cliffhanger. And it's nice to see Poyo again — can't go wrong with a luchador chicken…
Today's Cool Links: