Alright, people, it's finally Friday, and that means it's time we get to the all-important maxxin'-and-relaxxin' portion of the week. And we're gonna start that off the way we always do with… FRIDAY NIGHT FIGHTS!
Tonight, we're getting our righteous pain and whuppin' from the greatest journalist in comics history — Spider Jerusalem. Here, from August 2000's Transmetropolitan #35 by Warren Ellis, Darick Robertson, and Rodney Ramos, Spider has a few questions he wants to ask Daniel Cox, a creepy cop-approved murderer.
And he closes it all down with the perfect one-liner: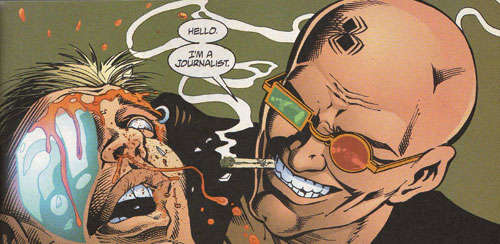 Yeah, that's the way you conduct an interview!