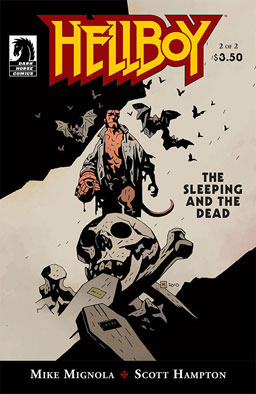 Hellboy: The Sleeping and the Dead #2
Well, Hellboy is trapped in a basement with a monster that's part zombie, part ghost, part nursery-rhyme-quoting little girl, and he's not doing so well. The monster can knock him around easily, but she turns insubstantial everytime Hellboy throws a punch. Meanwhile, the vampire who created her and turned her big sister into a vamp gets mad when he finds out that Hellboy killed the older vampire, so he sets a horde of zombies after a couple of investigating B.P.R.D. agents. Can Hellboy figure out a way to stop all this? Or is his usual punch-first-ask-questions-later methodology going to release the monster into the world?
Verdict: Thumbs up. Nicely done story that flips between punchathon violent to understated creepy. Best place to find stories like that is, as usual, Mike Mignola's Hellboy stories.
iZombie #10
Gwen finally goes to see Tricia Nakagawa — a girl who knew her when she was still alive — to let her know that her deceased mother still loves her — and discovers a secret she was not prepared for. Spot discovers that Ellie's new talent of shoehorning her soul into other people's bodies might be useful for helping his grandfather. Horatio and Diogenes have some serious trouble with the vampires. And Galatea's plans get progressively nastier.
Verdict: Thumbs up. But this is a series that's starting to look like it's mired down in soap-opera plot developments that never lead to any resolution — it'd be nice to see some plot threads start getting tied down here and there.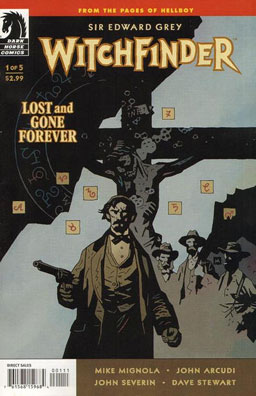 Sir Edward Grey, Witchfinder: Lost and Gone Forever #1
Edward Grey, former Witchfinder for the British government, has gone walkabout in the American West. He stumbles into a mostly lawless town with a destroyed church. He ends up gunning down a lot of the locals in a saloon gunfight and gets escorted out of town by a frontier scout — who probably just saved him from getting beaten to death by the rest of the folks in town. The scout reveals some of the town's past — a mysterious incident that cause much of the population to vanish, leaving only some sort of magic circle etched into the floor of the church. So what's behind all this? And why do so many people want Sir Edward dead?
Verdict: Thumbs up. Nice beginning for a new storyline — and I like the idea of moving the very British Witchfinder into a more rough-and-tumble environment.
Today's Cool Links: