I'm not much of a fan of St. Paddy's Day, and I always actually end up avoiding wearing green on March 17. Quite honestly, I've got enough natural Irishness in me — why should I have to advertise it any further? I can sing "Danny Boy" with a proper Irish tenor lilt, and you still want me to go out and drink cheap green beer? Suck my shillelagh, laddy-buck.
But SpaceBooger wants to have a special post-St. Patrick's Day edition of Friday Night Fights, featuring green contestants? Okay, I'm fine with that.
From Green Lantern #106, late October 1998, by Ron Marz, Paul Pelletier, and Terry Austin: time-lost Green Lantern Hal Jordan takes on time-lost Parallax Hal Jordan: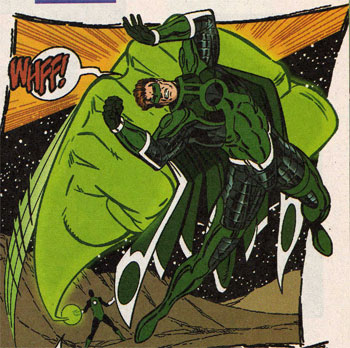 Hope y'all had a happy St. Patrick's Day, either wearing green and wishing you were Irish, or not wearing green and smirking at all the wannabes. Now bring on the weekend!