Awright, ya long-eared varmints, it's been a long week, and we all need a little dose of mayhem and chaos to kick off the weekend, which means it's definitely time for… FRIDAY NIGHT FIGHTS!
Tonight's battle comes from September 2003's Fantastic Four #500 by Mark Waid and Mike Wieringo, in which the Invisible Woman and the Thing use a temporarily magic-focused Dr. Doom as a pinata.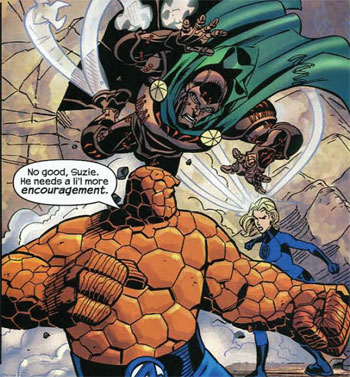 I'm just sorry I couldn't put that last panel in here full-sized. But a two-page spread of Mike Wieringo's glorious art would break the page layout — and possibly your brains, too.
See y'all on Monday, and have a Happy Easter, too.