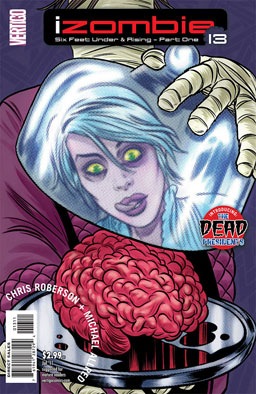 iZombie #13
Gwen, Ellie, and Spot are on top of the world — they've solved a Scooby-Doo-esque case and have been invited to dine with Amon, the wealthy mummy who's taken an interest in Gwen's welfare. Amon tells them about Galatea's dire plans for the world, Horatio ends up stuck on his own as the lone monster hunter in town, and Spot gets stuck in a bad place during a zombie outbreak. Meanwhile, we are introduced to a new group of characters called the Dead Presidents — government operative with their own strange supernatural abilities.
Verdict: Thumbs up. The entire story was great, but I really enjoyed the Dead Presidents. I suspect they're being prepped for a mini or ongoing series of their own…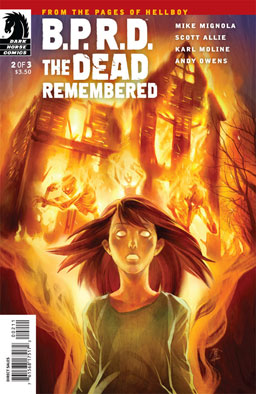 B.P.R.D.: The Dead Remembered #2
Pyrokinetic teenager Liz Sherman is on her first "mission" with the Bureau — basically tagging along with Professor Bruttenholm while he investigates a low-level haunting. But she's stumbled onto a much more terrifying haunting in the woods. Liz meets a local boy she likes and remembers how her new powers ended up killing her family. So what's the secret of the haunting in the forest, and why does it react so strongly to Liz?
Verdict: Thumbs up. I'm loving the artwork here. The dialogue is good, the story is advancing nicely, but I really am jazzed about the work Karl Moline, Andy Owens, and Dave Stewart are doing with the art.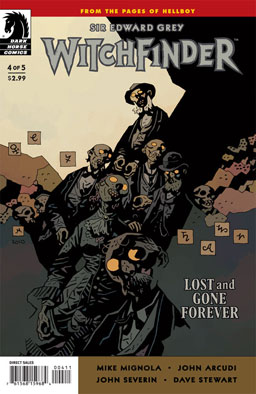 Sir Edward Grey, Witchfinder: Lost and Gone Forever #4
Sir Edward and Morgan set off to find an abandoned mine that Edward has dreamed about. They argue along the way about Edward's hard-headed attitude about magic, but as they explore the mine, they discover that Eris has left a nasty surprise for them — a bunch of missing — and dead — churchgoers who have been raised by the witch as zombies. While they escape, Eris has more trouble in mind for them. Can they escape — and do they have allies they weren't expecting?
Verdict: Thumbs up. The best thing about this series has been the outstanding characterization. Sir Edward, Morgan, and Isaac are all very strong characters, and it makes reading about them great fun.
Today's Cool Links:
Just one link today — haven't had a lot of time for websurfing lately… But I thought this was a really excellent essay on the severe racial problems afflicting both DC and Marvel. The folks in charge think diversity gets in the way of reviving the Silver Age characters that few modern readers really care about — and ultimately, their lack of commitment to any kind of diversity puts the comics industry way, way in the back of the pack. And as long as the people running DC and Marvel feel free to claim that that 99% of superheroes should be white, there's not going to be very much progress made.