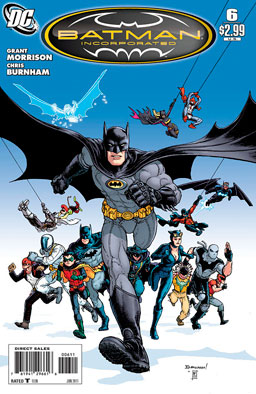 Batman Inc. #6
The global underworld is plenty alarmed by the presence of Batman Incorporated — Bruce Wayne is recruiting new Batmen left and right. He puts Red Robin in charge of the newest version of the Outsiders, uses a bunch of sockpuppets to spread doubt about his true identity, and informs everyone that they're going after a multinational crime ring called Leviathan. We catch glimpses of Batman Inc. associates like Nightrunner (nice to see DC didn't get run off by the short-lived controversy over that character), Batgirl, Huntress, Oracle (her online avatar now has its own bat ears), Blackbat (Cassandra Cain, the much-missed former Batgirl), Australia's Dark Ranger, North Africa's Batwing, a new Wingman, Gaucho, and much more. But Leviathan has plenty of tricks up its sleeve…
Verdict: Thumbs up. So very many awesome things here, particularly the return of Cassandra Cain. I just love the way the story and all of these characters are coming together.
Hellboy: Being Human
Mike Mignola reunites with superstar horror artist Richard Corben for a new story from Hellboy's past, this time co-starring the late Roger the Homunculus. The story is set in 2000, when Roger hasn't been alive long and is still wracked by guilt because he accidentally (but only temporarily) killed Liz Sherman when he was brought to life. Hellboy brings him along on a minor haunting in South Carolina. Someone keeps digging up a long-dead family and moving them into the ruin of their old family home. When the witch who raised the family to torture them returns, she immobilizes Hellboy with a mystical Hand of Glory — but will Roger stand a chance of freeing his friend and stopping the witch?
Verdict: Thumbs up. As always, Mignola and Corben are a combo that can't miss. Lots of awesome zombies, demons, and horrors, beautifully illustrated by Corben and beautifully humanized by Mignola.
The Unwritten #25
Tom Taylor finally returns to Earth after a few months of getting knocked around inside literature itself. Lizzie Hexam and the newly vampiric Richie Savoy are planning on breaking into an auction house to steal a lot of items originally owned by Tom's father, Wilson Taylor — and Tom's new mastery over the crystal doorknob will allow them to march right past the security. But will Tom be able to resist exploring his memories inside the auction house? And will they be able to deal with their enemies inside?
Verdict: Thumbs up. Nice start to a new storyarc, with Tom finally in more control of his magical abilities and the search for the truth getting taken to a higher and more dangerous level.
Today's Cool Links:
A "useless machine" is basically an engineer's joke. You switch it on, and a mechanical hand emerges to shut itself back off again. Most are pretty simple. This one is pretty epic.
This recipe for vegan pad thai is the most metal recipe for vegan pad thai ever.
There's something about these "My Little Pony" mashups that I just can't get enough of.