American Vampire: Survival of the Fittest #1
A new miniseries starring our new favorite non-sparkly vampires, still written by Scott Snyder, but with Sean Murphy, last seen illustrating Grant Morrison's "Joe the Barbarian," taking on the art chores.
Our lead character in this series is Felicia Book, half-vampire daughter of Wild West lawman Jim Book. It's 1941, and Felicia works as a vampire slayer for the Vassals of the Morning Star. After proving to a newspaper publisher that his papers are infested with vampires, she returns to the Vassals' headquarters in the American Museum of Natural History — where she has a reputation as the organization's leading badass — and prepares to take a sabbatical. She learns that former Las Vegas police chief Cash McCogan is with the Vassals now, and he may have a lead on a cure for vampirism — hidden inside Nazi Germany.
Verdict: Thumbs up. The writing quality is just as high as the regular "American Vampire" series, and Sean Murphy's art is just seriously awesome.
The Unwritten #26
Tom Taylor has been captured by his enemies, and he's being put up for auction for a bunch of rich bastiches so they can dissect him and find out his secrets. One of the members of the Cabal is on hand, planning to wipe everyone out and take Taylor for himself, but Mrs. Rausch, the elderly puppeteer, puts a spell on him to keep him silent. Tom's friends, Lizzie Hexam and Richard Savoy, are drugged in another room — but Savoy became a vampire not that long ago, and it's not easy to drug the undead. Everyone makes their escape — but what secrets is Tom going to learn from his father's diaries?
Verdict: Thumbs up. All in all, a good story. Very nice intrigue and action, and wonderful dialogue.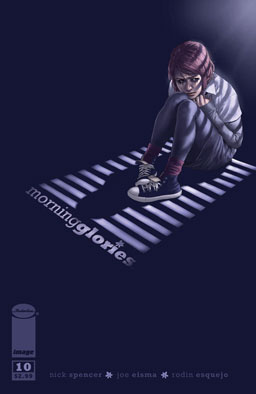 Morning Glories #10
This one is all over the place. Jade is the angstiest and most pitiable of the kids at Morning Glory Academy, and a lot of this story is set in her dreams. And the parts of it that aren't set in her dreams may also be set in her dreams. And the ending is either set in her dreams or is set in her post-suicide hallucination.
Verdict: Thumbs down. Because I don't like being this confused.
Today's Cool Links: