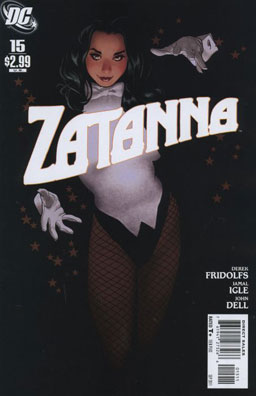 Zatanna #15
First of all, ain't that a gorgeous cover? Seems like nearly all the covers in this series have been really nice.
Our story starts calmly enough — Zatanna is settling in for a relaxing evening after a performance — until someone shoots an arrow through her throat! It missed the jugular, thankfully, or this would be a really short comic — but the arrow was poisoned, and it's not a wound to laugh off anyway. And obviously, someone is in the theater gunning for Zee. In this case, it's a bunch of well-armed and organized witch-hunters. Even with a healing potion bandaged around her throat, is Zatanna going to be able to avoid a dozen armed mercenaries without the benefit of her magical abilities?
Verdict: Thumbs up. A wonderfully claustrophobic and intense story, with the slow sections devoted to character moments and the rest of the comic dedicated to entirely furious action. Derek Fridolfs' story was an absolute blast to read, and the art by Jamal Igle and John Dell was really outstanding.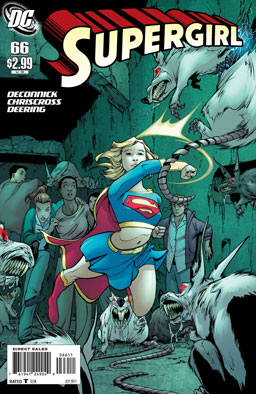 Supergirl #66
Supergirl is disguised as a normal prospective college student as she investigates the disappearances at Stanhope College — and she and another bunch of students are lost in the steam tunnels under campus. Since she's surrounded by other students, she has to avoid using her powers, or they'll figure out her secret identity. Lois Lane takes her own investigation into the disappearances directly to the college administration, which just manages to alert the evil Professor Ivo that the good guys are on his trail. And then the robot rats attack. Can Supergirl keep everyone safe and still maintain her secret?
Verdict: Thumbs up. Beautiful art by ChrisCross and a really fun story from Kelly Sue DeConnick. Equal doses of action and humor, along with some excellent characterization.
Today's Cool Links:
"Knights of Badassdom" has the most gloriously geeky movie trailer of the year.
You like geeky papercraft? Here's some geeky papercraft for you.
The Overlook Hotel in Stanley Kubrick's film of "The Shining" had corridors that were literally impossible. Watch these videos to see how they played with set design.