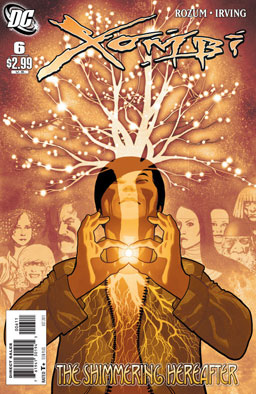 Xombi #6
And almost without me noticing, here's the final review I'll get to write of what I'm already considering the lost classic DC Universe. Odd that it's for such an unusual off-the-beaten-path series as "Xombi," though…
Roland Finch has taken over the Ninth Stronghold, a giant floating city made out of the skull of a Biblical giant, and David Kim, the immortal xombi, and his religious-oriented magic-wielding friends have stormed the city in an attempt to take it back. While Finch sends his minions (like the Dental Phantoms and the horrific Sisterhood of the Blood Mummies, infested with spiders and armed with  knives that have different powers depending on the phase of the moon), the good guys work to shut down the Stronghold's power so Finch can't use it to wage war on other cities. Can David figure out how to stop Finch, defeat his monstrous allies, and still restore the Stronghold to its former glory?
Verdict: Thumbs up. Beautiful writing and artwork by John Rozum and Frazer Irving. Such brilliant, gloriously off-kilter ideas for such a short-lived series. Will there be room in the new DC for anything so wild or fun?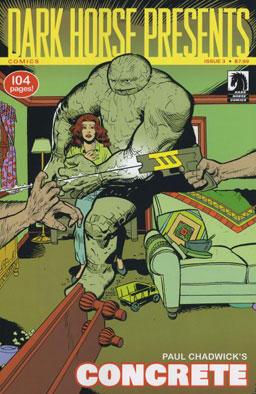 Dark Horse Presents #3
A new oversized issue of this anthology series. The eight-dollar cover price should be offset a bit by the fact that this issue has quite a few good stories in it.
We get "Treatment" by Dave Gibbons, a futuristic story about a world that combines law enforcement with reality TV. There's the odd but wonderful "Finder: Third World" by Carla Speed McNeil. There's Robert Love and David Walker's "Number 13" which is strange and off-kilter and still kinda heartwarming. There's Jim Steranko's fantastic hard-boiled private-eye tale "Red Tide," along with a lengthy interview with Steranko. Howard Chaykin brings in a new chapter of his offbeat "Marked Man" crime thriller, and Richard Corben contributes his weird fantasy "Murky World: The Sleepers." We also get the last chapter of David Chelsea's awesome "Snow Angel" serial. And as always, there's a new "Concrete" story by Paul Chadwick, in which Concrete, disturbed by the high kill-rate of the supposedly non-lethal taser weapons, begins working with the police to try make arrests a bit more humane using… hugs?
Verdict: Thumbs up. Lots and lots of stories here. A few dogs, but most of these are good, fun reading, especially the stories by Chadwick, Steranko, Gibbons, McNeil, Chelsea, and Chaykin. If you don't mind the high price tag, it's definitely worth picking up.
Today's Cool Links: