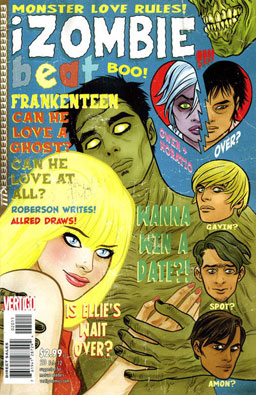 iZombie #20
Holy bananas, that's a wonderful cover.
Gwen is hiding out in a tomb, endlessly pacing, because she wants to avoid her ex-boyfriend Horatio, the leftover zombies, and the Dead Presidents. But eventually, one of the Presidents locates her and goes to get the rest of the group. Elsewhere, Ellie the ghost girl is helping to care for Francisco, who's been turned into a Frankenstein-like monster by Galatea the mad scientist. Ellie is falling for him, but can't even touch him. And Spot is about to meet up with his semi-sorta-boyfriend until Amon shows up and kidnaps him.
Verdict: Thumbs up. If you're into unbelievably weird monster-flavored soap opera, this is the book for you. The art is great, the storytelling is excellent, and the characterization and dialogue are fun, too.
Batgirl #4
We get some more of Barbara Gordon's backstory. She still suffers from survivor's guilt because she not only survived getting shot by the Joker but managed to recover from being paralyzed as well. We also get some info about how that recovery happened — Jim Gordon discovered a clinic in South Africa that was able to return her ability to walk. She goes out to bust some crime as Batgirl and runs across some thugs who are using a smartphone app designed to track appearances by Batman so they'll at least know they won't run into the Dark Knight — too bad the app didn't track Batgirl, because of course, she stomps them flat.
In the process of beating up the muggers, she realizes how to track Mirror, the serial killer who targets people who've survived by seeming miracles — since he's obsessed by the deaths of his family, of course he'd be visiting their graves on the anniversary of the accident that killed them. Batgirl leaves him a note and tells him to meet her at a deserted amusement park. But does Batgirl really have a chance against the stronger and more heavily armed lunatic?
Verdict: Thumbs up. Really excellent characterization on Barbara. Still not sure I'm buying the "really awesome medical clinic" as her miracle cure, though. The action, however, is really fantastic. There are a couple of outstanding fight scenes, and they're exciting and perfectly done.
Frankenstein: Agent of S.H.A.D.E. #4
Frankenstein, Lady Frankenstein, and the Creature Commandos are on Monster Planet trying to track down and destroy the giant monsters there. They learn that Monster Planet is actually sentient — and dying. It was taken over by the monsters, and they're trying to get Monster Planet to Earth so they can take over Earth as their new host planet. While Frankenstein and Nina Mazursky have a fairly easy time getting to the giant undersea monster because his monstrous minions see Dr. Mazursky as their mother, things don't go nearly so easily for Lady Frankenstein, Vincent Velcoro and Warren Griffith — they have to fight their way through nearly limitless hordes of ogres! Luckily, S.H.A.D.E. ships them some backup — the War Wheels and the G.I. Robot Squadron. Can the team kill both giant monsters and still make it back home to Earth?
Verdict: Thumbs up. Grand fun. The art's still a bit funky, but I think it's definitely growing on me. Otherwise, great character work and dialogue, nice action, and a lot of bizarre, hilarious stuff going on here.