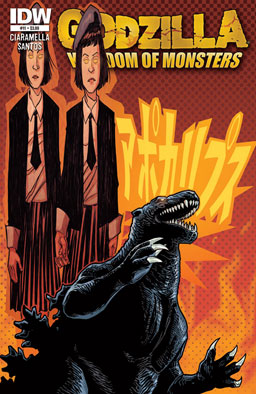 Godzilla: Kingdom of Monsters #11
Godzilla and King Ghidorah are down, but Rodan and Battra have just arrived on the scene, both mentally controlled by the evil French telepath girls. They want to control even more giant monsters, and to get Godzilla back to fighting strength, they have Rodan and Battra carry him to a nuclear power plant, drop him in, and blow it up. Godzilla is energized, but will he be bent to the twins' wills? And is anything going to be left standing afterwards?
Verdict: Thumbs up. For the most part, a knock-down, drag-out fight between Godzilla, Rodan, and Battra. It's good fightin', and even though they're all giant monsters, it's all smart fightin', too.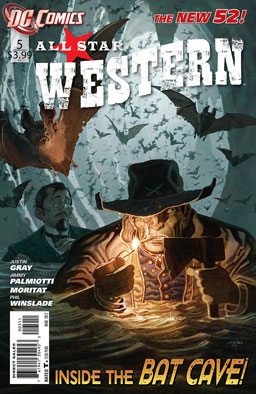 All Star Western #5
Jonah Hex and Doc Arkham are stuck underground, surrounded by — well, I think we can call 'em mutants. They're quickly disarmed and thrown into an underground river, where they're washed out in a waterfall and stuck on a narrow ledge. Things get worse from there, as Arkham's panic about dying of starvation attracts a bunch of cave-dwelling Indians who all try to kill them. Once they escape them, things get even worse when they have to climb a sheer cliff. And then things get even worse.
Verdict: Thumbs up. Wow, Doc Arkham really is completely useless — amusingly, frustratingly useless. Besides that, it's got good action, good dialogue, and it's just all-around good fun.
Secret Avengers #21.1
The first of Rick Remender's run on this series opens with a mission just for Captain America and Hawkeye. They're running around the rogue nation of Bagalia. They're on a mission to save an American politician from assassination — but he's not even a real person, just a robotic Life Model Decoy. And it turns out the whole escapade was a test for Hawkeye to see if he was ready to take over the Secret Avengers. Cap is mad at him for flunking the test, Hawkeye is mad at Cap for treating him like a junior space cadet. They split up to go home — and then Cap gets ambushed and captured by Whiplash, Vengeance, and Princess Python — they're working with Max Fury, a Life Model Decoy who looks like Nick Fury, so they can form a new Masters of Evil team. Will they be able to use Cap's capture to create anti-American propaganda?
Verdict: Thumbs up. Not half bad. Good art, good dialogue, good story. We'll see if Hawkeye can actually manage to lead a covert team or not…