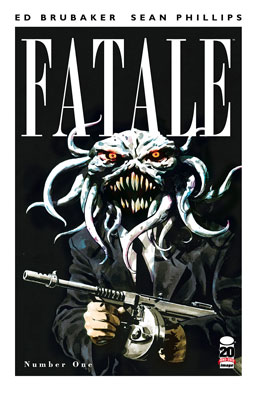 Fatale #1
My local store ran out of these fast, and it took a few weeks to get replacement issues, so we get late reviews of this.
When Ed Brubaker and Sean Phillips get together, it usually means they're working on stylish, noir-influenced crime comics. They're switching it up a bit this time — this is a stylish, noir-influenced crime/horror comic.
We start out meeting Nicolas Lash, a man attending the funeral of Dominic Raines, his godfather and one of his father's only friends — Nicolas has been named executor of Raines' estate, and at the funeral, he meets a beautiful woman named Jo. Later that night, while looking through his godfather's papers, he realizes that gunmen are coming to kill him — and Jo shows up to save his life. But after that, we take a trip to 1956 San Francisco, a city full of crooked cops, naive reporters, deranged cultists — and Jo, calling herself Josephine, no older and no younger than she'll be a half-century later…
Verdict: Thumbs up. Beautiful art and gritty neo-noir storytelling. Not a lot yet that's truly horrific, but I don't expect the first issue of a new series to drown us in monsters and gore…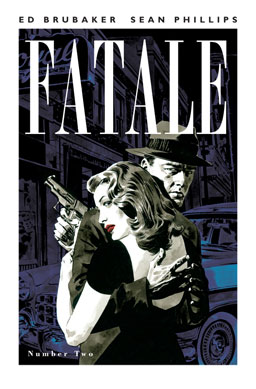 Fatale #2
This issue is set entirely in '56, as Josephine tries to see two different men — one a corrupt, cancer-ridden cop named Walt Booker, the other an idealistic reporter named Hank Raines who is investigating Booker. Raines wants Josephine to leave Booker — neglecting to realize that his pregnant wife is sure to find out about his infidelity. Booker, meanwhile, has contacted supernatural powers to help him get rid of his cancer. And what does the diabolical Bishop want in return? Booker just has to deliver Josephine. But that might be hard to do when his corruption is exposed by Hank's reporting…
Verdict: Another thumbs up. Again, great art and excellent crime storytelling. And the supernatural elements that finally make their appearance here are excellently creepy.
iZombie #22
Gwen is rescued from captivity by Horatio, who has quit the Fossor Corporation because he realized he loved Gwen, even if she was a zombie. Gavin discovers that Spot's grandfather is a chimpanzee, while Spot learns that Amon and Ubasti definitely plan to kill him as a sacrifice. The Fossors and the Dead Presidents make a very uneasy truce over the need to stop the end of the world, and Gwen remembers how Amon recently convinced her she had to… kill herself? But how can a zombie kill herself?
Verdict: Thumbs up. Nice to see so many plotlines coming together all at once — even minor ones, like Dixie the waitress being revealed as the model for the old Dixie Mason dolls that Spot collects.
Today's Cool Links: